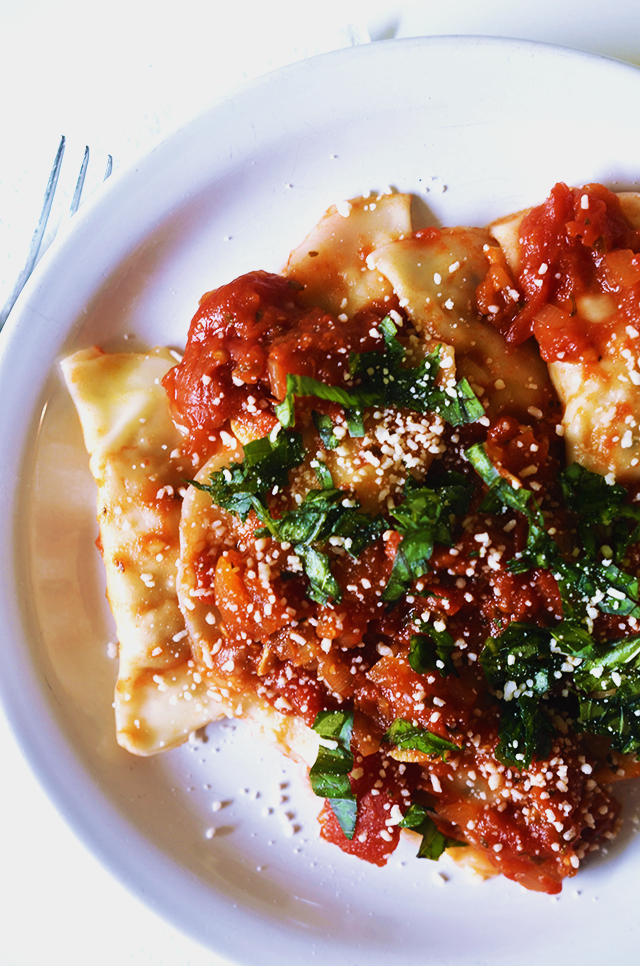 Is it fall yet? Serious question.
This summer has been emotionally difficult for my husband and me, and a big part of us is ready to move on to fall. I mean I'm always ready for fall, but now I'm like
really
ready
for fall. We're ready for football, for
pumpkins
, for Halloween and Thanksgiving. For
chex mix,
game day food
, and autumn beer.
When I ask "Is it fall yet?" I guess I'm not seriously wondering. The Texas heat lets me know exactly what season I'm in. I'm really just throwing this request out to polite society: Can we start early this year?
Stores start rolling out fall stuff in like mid-August so can we just push it up a few weeks early? Please?
What if I said we could still eat summer produce?
The one aspect of summer that I'm not ready to leave is produce. I can't get enough summer produce right now. Corn, melon, basil, tomatoes, eggplant, peppers, it's all so dreamy.
This ravioli is a great vessel for those wonderful summer flavors. It's filled with a slightly tangy tempeh and white bean that's flavored with rich fennel, garlic, and basil. I think these raviolis go best with a fresh tomato sauce, but I wouldn't overlook the possibility of gently tossing them with basil pesto. I mean, you might as well make this dish as summery as you can.
I'm considering making a crazy amount of these little guys, and sticking them in the freezer for those cold and sad months like January. When fall is long gone and the thrill of Christmas is over, and you're like "Where do I even go from here? What is life anyway?"
So while you drool over these glorious raviolis I'll ask you again:

Can we please start fall early if we keep summer's produce? If we do this whole thing my way we can still eat tomatoes but also drink hard apple cider. We can still eat enjoy pesto but maybe mixed into some butternut squash mac and cheese. And who doesn't want to start in on the pumpkins already?
If you're not ready for fall yet, I can't blame you. I guess my real and true request is that you don't judge my husband and me as we accelerate the season. I mean let's be real here – it's always fall in my heart anyway.
If you're just as ready for fall as we are, check out my book Fall FoMo No More!
White Bean, Tempeh, and Fennel Ravioli
Ingredients:
1 tablespoon olive oil

1 small onion, chopped fine

1 large fennel bulb, small diced

8 ounce package tempeh, crumbled

3 cloves garlic, minced

1 teaspoon Bragg's Liquid Aminos

1/4 teaspoon smoked paprika

1/8 teaspoon ground nutmeg

2 cups cooked white beans

2 tablespoons nutritional yeast

juice from 1 medium sized lemon

3 fresh basil leaves,

chiffonade

10 ounce package round vegan wonton wrappers (around 54 pieces)
1. Heat the olive oil in a large skillet over medium heat. Add the onion and fennel, and cook until the fennel begins to soften, and the onion starts to brown, between 5-10 minutes.
2. Add the tempeh to the vegetables, and allow it to cook, stirring often, until it starts to brown.
3. Stir the garlic into the tempeh mixture, and allow it to cook for about 20 seconds. Then add the liquid aminos, paprika, and nutmeg. Remove the tempeh mixture from the heat, and add salt to taste. Put this mixture aside to cool while you prepare the bean puree.
4. To make the bean puree add the white beans, nutritional yeast, lemon juice, and basil to a food processor. Process the mixture until it's completely smooth. You'll need to stop the machine to wipe the mixture off of the sides a few times. Salt the puree to taste, and transfer it to a large bowl.
5. When the tempeh mixture has cooled to the touch add it to the bowl with the bean puree, and use a spatula to fold the ingredients together. Taste the mixture for salt, and add more to taste if need be.
6. Put a rounded teaspoon of the tempeh/bean mixture into the middle of a wonton wrapper, moisten the edges of the wonton with water, and fold the wrapper to seal, pressing the edges into each other. Continue this process until you're out of wrappers.
To Store the Ravioli in the Fridge
Line the bottom of an airtight container with wax paper, and add enough ravioli to make one layer. Lay a piece of wax paper over the first layer of ravioli, and top it with a second layer of ravioli. Continue this process until the raviolis are all put away. Store them in the fridge until you're ready to cook (or up to two days).
To Freeze the Ravioli
Place the ravioli in a single layer on a large wax paper-lined baking sheet. Place the baking sheet in the freezer, and allow the ravioli to freeze for a few hours (or until they're completely frozen). Transfer the frozen ravioli from the baking sheet to a plastic freezer bag. Frozen, the ravioli should last for a few months.
To Cook the Ravioli
Bring a large pot of salt water to a boil. Once boiling, drop the ravioli a few pieces at a time into the boiling water. When the ravioli rises to the top of the water, it is done. This should only take a few minutes. Repeat this with the remaining ravioli.
Gently toss the ravioli in whatever sauce you'd like.
Please note that the cooking instructions are the same for fresh and frozen ravioli.
Pin it!