Disclaimer: Housevegan.com contains Amazon Affiliate links. Please see the bottom of the right sidebar for HV's Amazon Affiliate disclosure, or feel free to read this site's
Disclaimer
.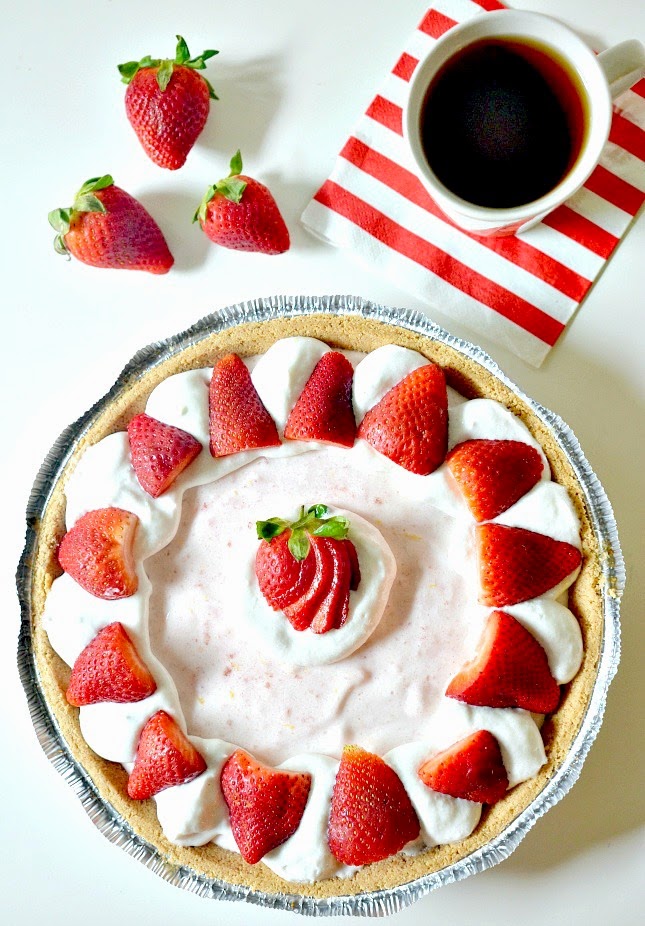 This Strawberry Chiffon Pie is a cream pie to dream by. It's light and airy strawberry fluff over graham cracker crust, and topped with whipped cream. Just the kind of food that inspires me to indulge!
I'd like to note that the 90's country song "Strawberry Wine" has been in my head since I started conceiving this post. F
itting because I was introduced to this pie in the south.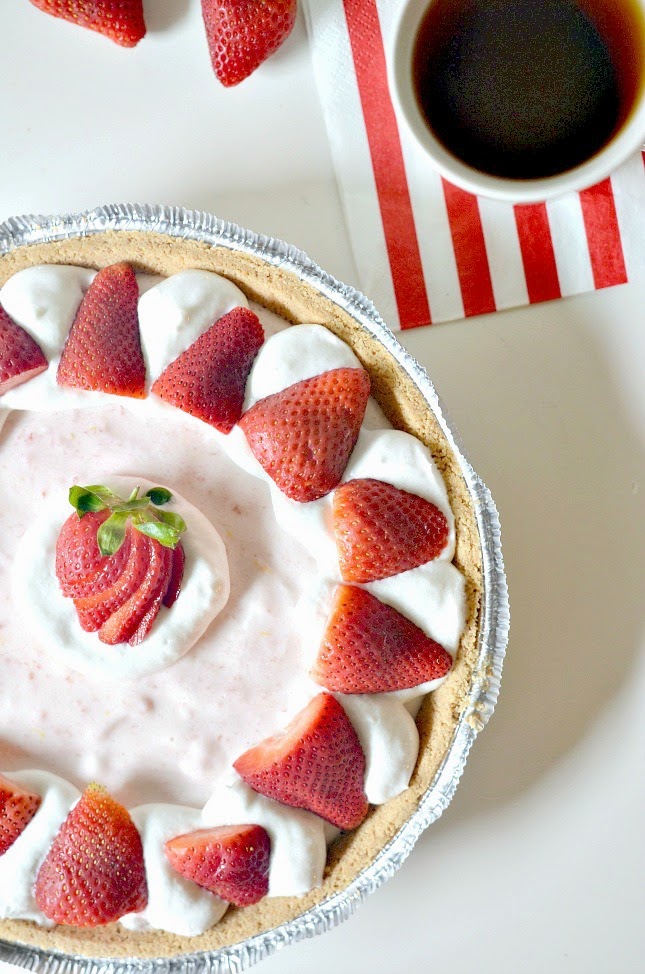 When I was 16 my mother and I decided to take a trip to Atlanta to meet her long time internet best friend. They met in a Tolkien fan group that my mother joined after becoming a total LotR fan girl. Let me go ahead and respond to what you may be thinking:
– No, the friend (we'll call her Dory) wasn't weird.
– Yes, they're still best friends – on and off the internet.

Dory had such a lovely southern home. I'll always remember walking into her spacious kitchen, and spotting 3 technicolor cream pies on counter. They were pink, green, and purple! I had a slice of the pink, and was completely blown away with how delicious it was. I was told it was "just jello and cool whip."
Jello and cool whip may not sound that appealing, but chiffon pie? That sounds delicious. It's been over a decade since I've had the dreamy dessert, but vegan food technology has made it possible once again.
This is the kind of recipe your Grandma clips out of a magazine.
It's the kind of pie your Great Aunt serves to you on a hot and humid day with a glass of cold lemonade.
It's the kind of dessert you see at 4th of July potlucks. It's something you scarf down after playing baseball or riding your bike all day. It's nostalgic. It's Summertime. It's just incredibly delicious.
Vegan Strawberry Chiffon Pie
Ingredients:
2/3 cup boiling water
1 3 oz package vegan Strawberry Jel Dessert (I used Bakol)
1 cup very very very cold water
1 1/2 teaspoons grated lemon zest
2 tablespoons lemon juice
1 9 oz Container of So Delicious CocoWhip, thawed
1 vegan graham cracker crumb crust, bought or homemade
Directions:
1. Combine the boiling water and jel dessert together in a bowl, and whisk until the jel is dissolved. Add the cold water, lemon zest, and lemon juice, and whisk to combine.
2. Fold in the CocoWhip, and put the mixture in the fridge for about an hour to firm up.
3. After an hour in the fridge pour the filling into your crust. Cover and refrigerate your pie for at least 4 hours.
4. Top with more whipped cream and strawberries if you'd like.

P.S. Y'all should all know that Oedipus is officially fine, and without kidney damage! Thank you all so much for your well wishes!
Let's be friends! Follow HV on Facebook, Google+, Pinterest, Bloglovin', and Instagram! You can also get House Vegan posts delivered right to your inbox by clicking here!
Pin It!