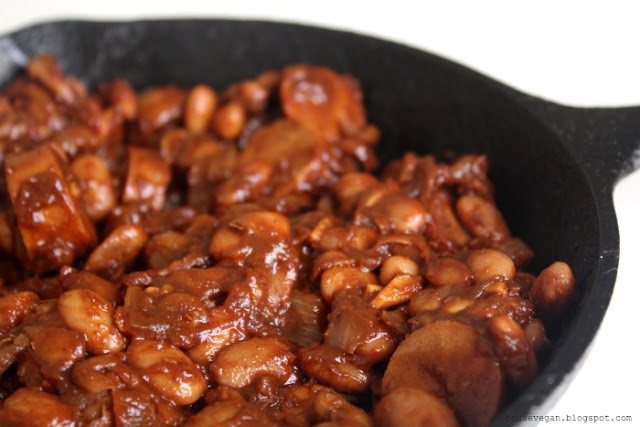 Did you eat Franks and Beans growing up? It's basically white beans, pork and hot dogs in a sweet and tangy sauce. It's so warm and comforting, but the ingredients are not the best. I made some changes to make it healthier, vegan and as wonderful as it ever was.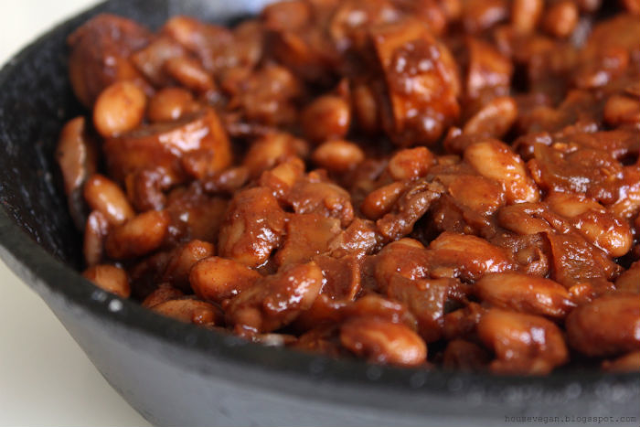 The first change I made was using pinto beans instead of white beans. I like white beans, but I love pinto beans. Next, I used
Field Roast Frankfurters
in place of the hot dogs.
I love
Field Roast
because their products are grain based, not soy based. I love soy when it's organic and free of GMOs, but a lot of soy based meat alternatives aren't there yet. So I prefer to make my own grain meats or use products from
Field Roast
or
Upton's Naturals
.

Vegan Franks and Beans
Ingredients:
3 tablespoons molasses

1 teaspoon mustard, preferably dijon

1 tablespoon ancho chili powder

2 tablespoons brown sugar

1/2 cup water

1/2 teaspoon liquid smoke

1 tablespoon olive oil

4 vegetarian hot dogs (like Field Roast Frankfurters), sliced

1 small onion, diced

4 cloves of garlic, sliced

3 cups cooked pinto beans (2 15oz cans if you're using canned)

salt to taste
1. In a bowl, whisk together the molasses, mustard, chili powder, brown sugar, water and liquid smoke. Set the mixture aside.
2. In a large skillet, heat the olive oil over medium high heat. Add the sliced hot dogs and cook them until they're browned. Remove them from the skillet and set aside.
3. Turn the skillet down to medium heat and add the onions. Let the onions cook until they're a little brown (not burned.)
4. Add the garlic to the onions and cook until fragrant, about 30 seconds.
5. Turn the heat down to medium low and add the beans and molasses mixture. Let it simmer, stirring often, until the whole thing gets thick and saucy, about 10 minutes.
6. Once thick and saucy, remove your franks and beans from the heat and season them with salt to taste.
7. This recipe serves four. Unless you're starving, then it serves two. And I can't eat beans without cornbread so I recommend making a pan. Or better yet a skillet. Unsweetened, please.