Before telling you about this Vegan Pumpkin S'mores Icebox Cake we gotta go to that good ol' disclaimer: Housevegan.com is a participant in the Amazon Services LLC Associates Program, an affiliate advertising program designed to provide a means for sites to earn advertising fees by advertising and linking to Amazon.com. This post contains Amazon affiliate links.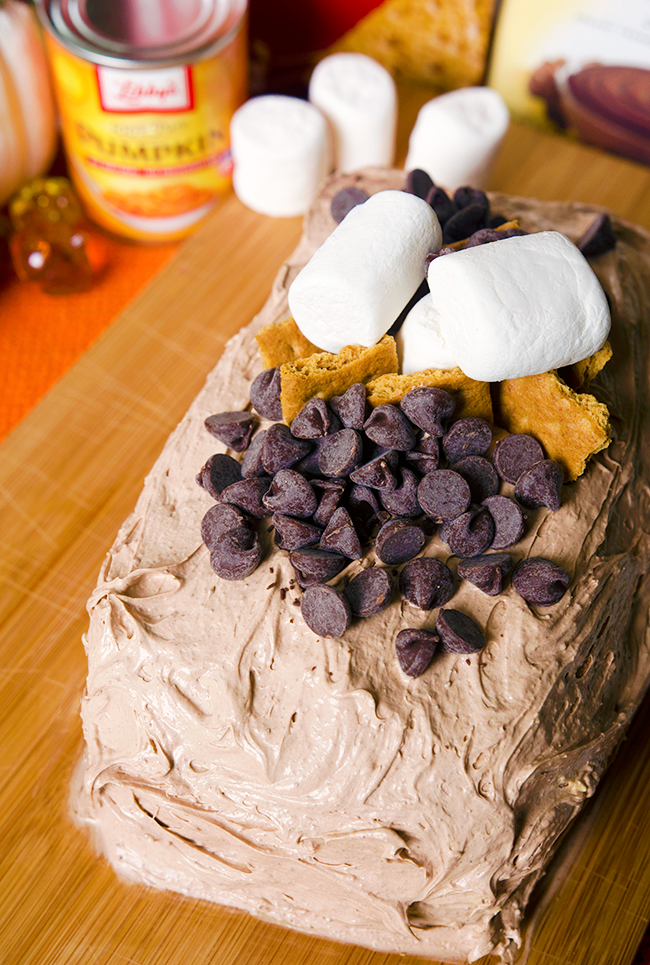 Hi friends! A while back on Instagram I asked if anyone would be opposed to fall-ish recipes before we actually get to the season. The response was so positive, and it affirmed just how much I love y'all. Don't worry though, I'm not going full fall before we even get to June. I'm a fan of summer, and August will be here soon enough. What I can say is that I'm already working on fall projects, and my advice is to get excited.
But that doesn't matter right now. What matters is that it's hot outside and I'm feeling summer flavors and frozen desserts.
However, I am who I am and I was starting to get sick of not eating pumpkin. Maybe it's the gemini in me, but I truly am able and happy to wear shorts and tanks, and listen to the Beach Boys while burning a fall candle and eating pumpkin. I even wrote my book, Fall FoMo No More, in the summer of 2015 when it was consistently over 100 degrees. It may have felt like the surface of the sun outside, but I was inside drinking rosé, listening to the Nightmare Before Christmas soundtrack, and testing recipes for Gravy-Smothered Stuffed Seitan Sausages and Apple Cider Donuts. Honestly, writing that book in summer was so fun.
So as you can see, creating a fall-inspired summer dessert would not be out of the ordinary for this gal.
The other day I was combing the baking aisle when I spotted this adorable can of pumpkin from Libby's, and I was absolutely smitten. It's 8oz, you guys! Is this new? I swear I've never seen a small can of pumpkin before, but it's such a good idea. It seems like I always have just a small amount of pumpkin puree leftover whenever I open a can (I even created these Savory Whole Grain Pumpkin Crackers with that fact in mind), but this little can provides just the right amount of pumpkin for many recipes – including this one for Vegan Pumpkin S'mores Icebox Cake
.
This vegan icebox cake may have pumpkin in it, but it's definitely a summertime dessert. The pumpkin is present but not over-bearing next to the graham crackers, chocolate chips, and marshmallows. It's just enough to keep your gourd loving heart happy while not ruining your summer buzz.
I enjoy summer, but I'm always open to bringing more pumpkin into my kitchen. Y'all know how I do.
Oh and in case you were wondering:
Mentioned in This Post and Recipe:
Vegan Pumpkin S'mores Icebox Cake
Ingredients
2 9oz containers So Delicious CocoWhip! (or 5 1/2 cups homemade vegan whipped cream)

1 cup pumpkin puree

1/2 teaspoon cinnamon

6-8 vegan graham crackers (like Nabisco's Graham Original)

(plus more for garnish)

2 cups vegan marshmallows (plus more for garnish)

1 cup vegan semi-sweet chocolate chips

(plus more for garnish)

1/2 cup powdered sugar

1 3.5oz box vegan chocolate pudding mix
Instructions
1. Line a loaf pan with wax paper. It doesn't have to be beautiful, it just needs to do the job of making it easy to remove the cake from the pan after the first freeze.
2. In a large mixing bowl whisk together 1 container of CocoWhip! (or 2 3/4 cup vegan whipped cream) with the pureed
pumpkin
and cinnamon.
3. Spoon a 1/4 of the pumpkin whipped cream into the lined loaf pan, and spread it out to the edges of the pan to create the first layer.
4. Layer half of the graham crackers over the pumpkin whipped cream. You'll need to break them into halves and quarters to do this, but again, it doesn't need to look pretty. Top the graham crackers with another layer of pumpkin whipped cream by spooning another 1/4 of the cream on top and spreading it to the edges.
5. Top that pumpkin whipped cream layer with the marshmallows and chocolate chips. Cover those with another layer of pumpkin whipped cream by using half of what's left of the batch.
6. Add the last layer of graham crackers, and top that with the last layer of pumpkin whipped cream. Place the cake in the freezer for 1-2 hours – or until it's completely frozen.
7. When the cake is completely frozen remove it from the freezer and turn it upside down onto a large platter. Take a dish towel and soak it under hot water. Ring out the towel, and place it over the loaf pan. Let the cake sit like this until it thaws enough to pop out of the pan. This took about 20-30 minutes for me.
8. While the Pumpkin S'mores Icebox Cake thaws,
make the outer layer of chocolate whipped cream frosting by adding the second container of CocoWhip! (or the remaining vegan whipped cream), powdered sugar, and chocolate pudding mix to the bowl of your stand mixer. With the whisk attachment, start mixing the ingredients on low until the powders are mostly mixed into the whipped cream. Increase the speed and mix until the ingredients are fully combined.
9. When the icebox cake has popped out of the loaf pan remove the wax paper, and frost the cake with the chocolate whipped cream frosting. I loved how fluffy the cream was so I just did a messy and swirly sort of frost job. Once frosted, garnish the cake with graham crackers, marshmallows, and chocolate chips.
10. Place the
Pumpkin S'mores Icebox Cake in the freezer for an hour. To serve, use a sharp heavy knife to cut slices. Serve cold.
Shared to:
Snickerdoodle Create~Bake~Make Party #183
Pin it!

Let's be friends! Follow HV on

Twitter, Facebook

,

Google+, Pinterest

,

Bloglovin'

&

Instagram