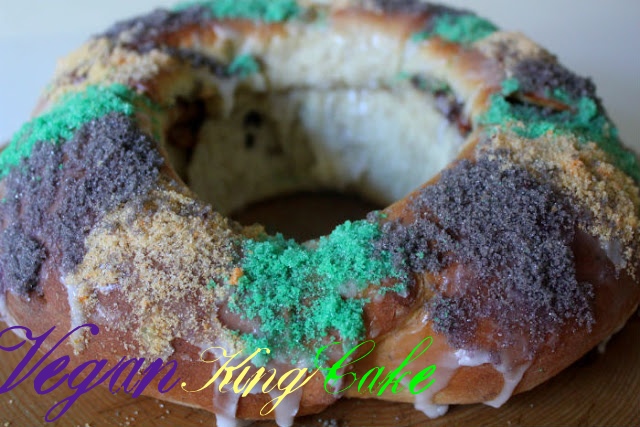 Mardi Gras is long and gone, but I made a King Cake anyway. Honestly, I don't believe I've ever had King Cake, but they look so amazing and I've always wanted to make one. When a friend decided to throw a New Orleans themed pot luck dinner party, it seemed like the perfect opportunity to give King Cake a whirl.
I ended up choosing a recipe with a brown sugar filling as instead of a cream cheese filling. Because of this, I was concerned about the authenticity of the dessert. When I do something, I wanna do it right. Especially if I'm altering a recipe to meet my dietary standards. However, I wanted make the cake a little more accessible to any party guests who may be skeptical of dairy/egg free desserts (in this day and age??) so I went with a less traditional filling. The result was still delicious and recognizable as a King Cake. Even better than your run of the mill store bought King Cake, so I was told. Hooray!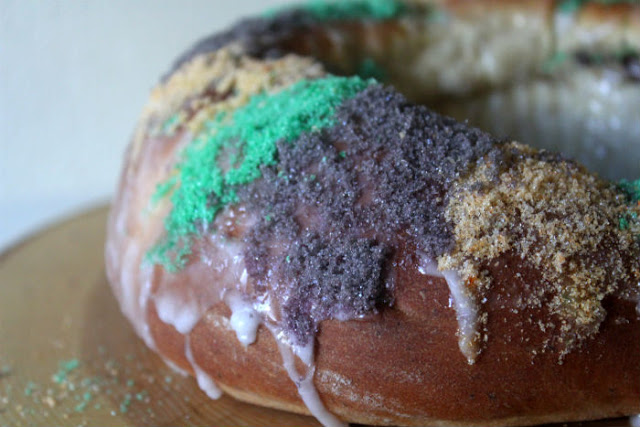 Vegan King Cake
Adapted from Mardi Gras King Cake on Allrecipes.com
Ingredients

Cake
1/2 cup non-dairy milk

2 tablespoons Earth Balance

1 packet (.25 oz) of active dry yeast

1/3 cup hot water (heated to 110 degrees F)

1 tablespoon ground flax seeds

3 tablespoons water

1/4 cup sugar

3/4 teaspoon salt

1/4 teaspoon ground nutmeg

2 3/4 cup all-purpose flour
1/2 cup brown sugar

1 1/2 teaspoons cinnamon

1/3 cup chopped pecans

1/4 cup all-purpose flour

1/4 cup Earth Balance, melted
1/2 cup powdered sugar

2 1/2 teaspoons water

gold (or yellow), green and purple colored granulated sugar (I made my own with sugar and food coloring)
1.

Scald the non-dairy milk. Remove from the heat and stir in the Earth Balance. Set this aside.
2. In a large bowl, dissolve the yeast in the hot water with 1 1/2 teaspoons of the sugar. Let this sit for a about 10 minutes.
While the yeast is sitting, whisk together the flax seeds and 3 tablespoons of water.
3. When the yeast is bubbly, stir in the milk and Earth Balance. Stir in the flax seeds and water, remaining sugar, salt and nutmeg. Stir the flour into the milk and flax mixture 1 cup at a time. When the dough has pulled together, turn it out onto a lightly floured surface and knead until smooth and elastic.
4. Place the dough in a bowl, cover with a cloth and let this rise for 2 hours, until doubled.
5. While the dough rises, make the filling by stirring together the sugar, cinnamon, pecans and flour until combined. Drizzle the melted Earth Balance over the sugar mixture and stir until it's all combined and crumbly.
6. When the dough has doubled in size, punch it down. Preheat the oven to 350 degrees and spray a baking sheet lightly with cooking spray.
5.
Roll dough into a large rectangle and sprinkle the filling evenly over the dough. Roll the cake up tightly, beginning at the wide side. Bring the ends of the roll together to form a ring. Place the ring on the prepared baking sheet. If you have anything oven proof and round (like a ramekin), place it on the inside of the ring to help it keep it's shape while baking. Let the cake rise until it's doubled in size, about 30 minutes.
6. While the dough rises, make the topping glaze by combining the powdered sugar and water.
7. Bake the cake in the preheated oven for 30 minutes.
8.Pour the glaze over the cake while it's still a little warm and sprinkle the colored sugar over the glaze, alternating colors.
9. Involve a plastic baby somehow if you must.