Before telling you about these Vegan Hello Dollies we gotta go to that good ol' disclaimer: Housevegan.com is a participant in the Amazon Services LLC Associates Program, an affiliate advertising program designed to provide a means for sites to earn advertising fees by advertising and linking to Amazon.com. This post contains Amazon affiliate links.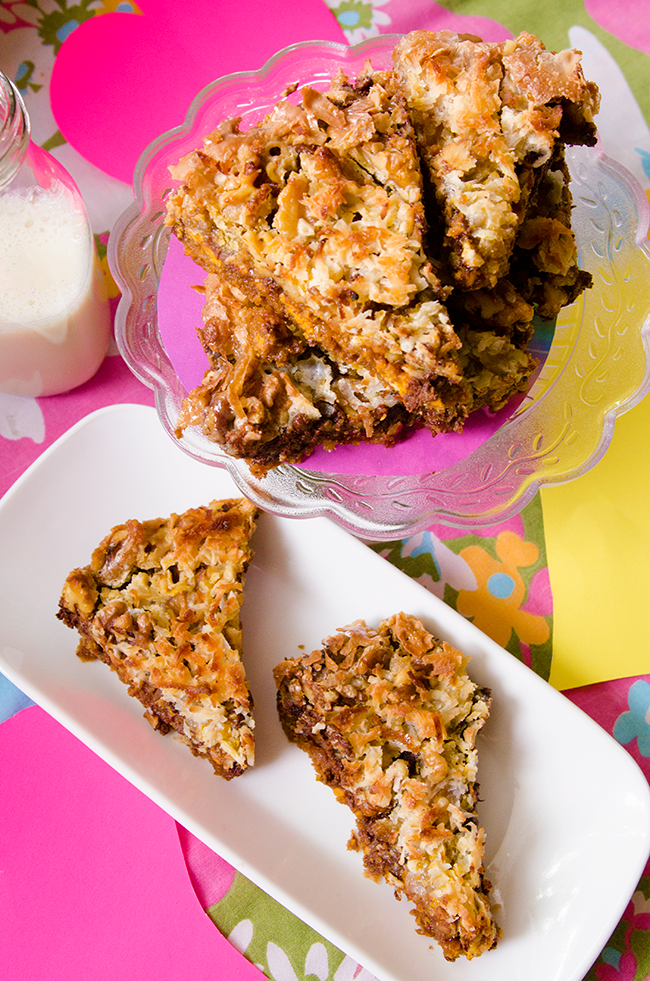 Hi, friends! I'm so excited to share this recipe today because it's something that I've been wanting to do for years. Y'all know I love sharing recipes inspired by my favorite movies and TV shows. Treats like my Super Orange Pumpkin Juice, Vegan Apple Turnovers, and Delicious Vegan Mulligatawny are great examples of this. This recipe was inspired by one of my very favorite movies from the 90's, Dick.
It's such a random movie, but it was actually pretty influential to me. When I saw it, I was a young teenager who was getting very into vintage teenage culture, and this movie spoke to me. While I was mostly focussed on 50s teenage culture, I grew up with a lot of 70s influences in my life. Thanks to my parents, Nick and Nite, and 1990's VH1 I already knew the music, the celebrities, the styles, the references, etc., and Dick just tied a lot of my interests together in a unique way.
Also, it's genuinely hilarious.
I loved this movie so much that I actually became a little obsessed with the Watergate scandal. My grandfather had all of these books on the subject, and as a 14-year-old weirdo, I would sit in my room and just consume these dense books written by old men discussing their perspective on the thing. Seeing my interest in the subject, my grandparents invited my mom and me to join them on their annual trip to Virginia to visit my grandma's sister. My great-aunt lives just a quick train ride away from Washington DC, and they wanted to show me the setting of my new weird hobby.
Among other touristy things, we obviously took a tour of The White House and visited the Watergate building. It's just a plain building you guys, but I was so stoked.
So in the movie, the main characters (two teenage girls) often make these cookies called Hello Dollies. They always sounded so delicious, and it was only a matter of time before I made them. And by "matter of time" I mean decades because that's how long I've been eying these cookies. Well, they call them cookies in the movie, but they're more like bars, let's be real.
I don't know the full history of the recipe, but I did recently read that recipes for Hello Dollies started popping up in newspaper columns in the 1960s. It makes sense – this recipe screams mid-century to me. It's very easy and consists of throwing store-bought ingredients together in a pan before baking. The recipe calls for graham cracker crumbs, butter, chocolate and butterscotch chips, coconut, walnuts, and sweetened condensed milk. All ingredients that are now available without milk or eggs. Pretty groovy, huh?
So I finally made my vegan Hello Dollies, and what did I think? Um….amazing. You guys, these bars (cookies?) are incredibly rich and gooey and chocolatey and would convince any skeptical non-vegan that vegan desserts don't taste like carob and tofu. Even though the recipe is easy peasy, and inherently not fancy, I would absolutely serve these to guests after any kind of dinner. They are decadent in every sense of the word and are absolutely made to impress.
I'm not sure why Hello Dollies haven't remained in popularity, but I think we need to bring them back. Make these once and you'll be hooked, I swear. I'm so glad to have this recipe at my disposal now. I get the feeling that it's going to be my go-to for parties, potlucks, etc.
The fact that I got them from a very goofy movie from the 90s can stay a secret among us friends.
Mentioned in This Post and Recipe:
1/2 cup vegan butter or margarine, melted

1 1/2 cups vegan graham crackers crumbs* (Nabisco's graham crackers are vegan)

1 cup vegan semi-sweet chocolate chips

1 cup vegan butterscotch chips (or another cup of chocolate chips)

1 cup chopped walnuts

3/4 cup shredded coconut

11.6 ounces vegan sweetened condensed milk
1. Preheat the oven to
350°F. Pour the graham cracker crumbs and melted vegan butter into an 8X8 inch pan (I actually used a pie plate which I don't recommend). Use a small spatula to mix the ingredients, and carefully use your fingers (make sure the butter isn't hot) to push the mixture down into the pan to form a crust.
2. Time to layer the cookies. First pour the chocolate and butterscotch chips onto the crust, spreading the morsels out to make an even layer. Do the same thing with the walnuts and then the coconut.
3. Pour the vegan sweetened condensed milk all over the layered ingredients. It'll find its way through the layers, don't worry.
4. Place the pan in the oven to bake for 25-30 minutes. The milk and coconut should be golden. Allow the Hello Dollies to sit
in the pan
at room temperature for at least an hour before cutting into them. Store your vegan Hello Dollies in an airtight container at room temperature.
*I made my own by pulsing Nabisco's graham crackers in a food processor until they were pulverized into crumbs.
Let's be friends! Follow HV on

Twitter, Facebook

,

Google+, Pinterest

,

Bloglovin'

&

Instagram

!