Before telling you about this Vegan Bacon Cheese Dip we gotta go to that good ol' disclaimer: Housevegan.com is a participant in the Amazon Services LLC Associates Program, an affiliate advertising program designed to provide a means for sites to earn advertising fees by advertising and linking to Amazon.com. This post contains Amazon affiliate links.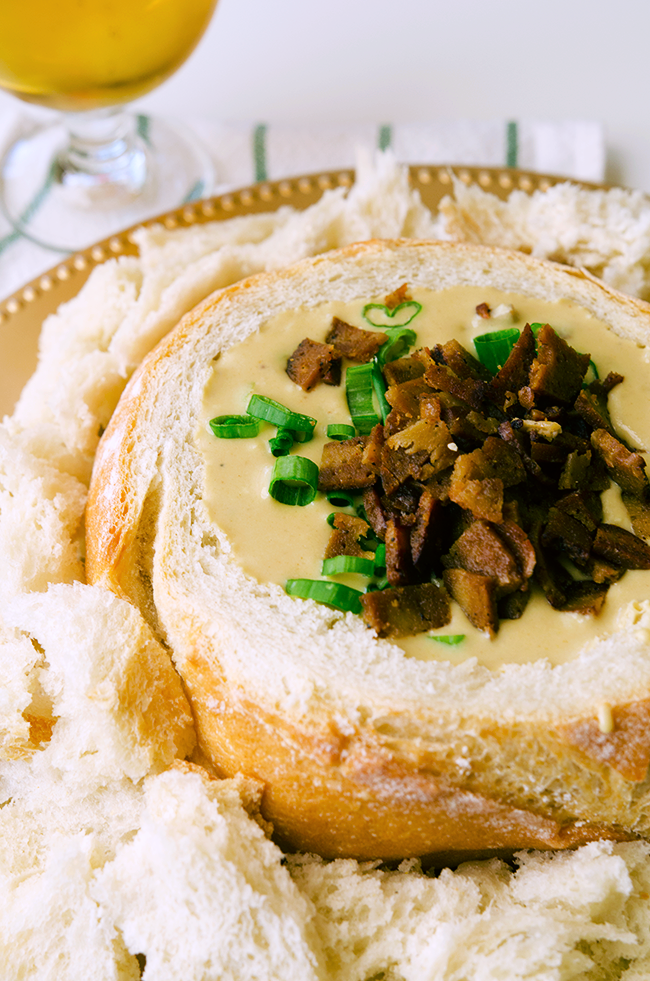 I've got a delicious new recipe to share with you guys, and frankly, it's about time! This Vegan Bacon Cheese Dip was created last fall, and as a write this I'm just thinking about how I can't wait to make it again. This recipe came together because I wanted an easy but delicious appetizer for something we do with our best friends called "Sh*tty Dinner Parties".
Basically, we got sick of our get-togethers being a production. Like fully cleaning our homes and creating these big beautiful menus. The effort involved was keeping us from hanging out as often as we wanted to so we started doing "Sh*tty Dinner Parties". For it to be accurate, you only clean your home to the level you would for yourself, not the Queen (we're guilty of Queen-cleaning). Snacks are easy AF, and the meals should come together quickly and use mostly what you have on hand. Honestly, these dinner parties have upped our quality of friendship and hangs by 1000.
See also: Loaded Cashew Queso (Dairy Free!)
This dip uses ingredients we always have on hand (except for the round loaf). It's very creamy, offering the perfect consistency for max dip-ability. The flavor is savory, cheesy, and a little smokey and tangy. It contains Sriracha, but only a tiny amount – it isn't spicy at all. But it certainly could be! Feel free to up the Sriracha or add your favorite hot sauce to taste.
Vegan Bacon Cheese Dip
1 round bread loaf

2 tablespoons cooking oil

6 slices vegan bacon, small diced

2 scallions, sliced (white and greens separated)

3/4 cup all-purpose flour

2/3 cup nutritional yeast

1 teaspoon garlic powder

1/2 teaspoon liquid smoke

1 1/2 cups unsweetened original non-dairy milk

1 cup vegetable broth

2 teaspoons mustard

1/2 teaspoon Sriracha

Salt, to taste
Instructions
1. Prepare your bread bowl by slicing a 1/2 inch slice off the top of your round loaf. Scoop out the inside leaving the bread bowl about an inch thick. Take the bread insides that you scooped out and tear them into dippable pieces. A little bigger than bite-sized!
2. Heat 1 tablespoon of the oil in a medium-sized saucepan over medium heat. Add the bacon and cook, stirring often, until it crisps up.
Transfer the bacon to a small bowl.
3. In that same pan, add the remaining oil and the white scallion slices. Cook for only a minute or so. Take the pan off the heat.
4. To the cooked scallions add the flour, nutritional yeast, garlic powder, liquid smoke, milk and broth. Whisk the ingredients to combine and make sure no lumps remain.
5. Place the saucepan back over medium heat, and whisk the dip continuously until it thickens to a creamy cheese dip-like consistency.
6. Remove the saucepan from the heat. Whisk in the mustard, Sriracha, cooked bacon, and the remaining scallions. Taste the dip for salt, and adjust as desired.
7. Pour your Vegan Bacon Cheese Dip into your prepared bread bowl and serve with the torn bread pieces.