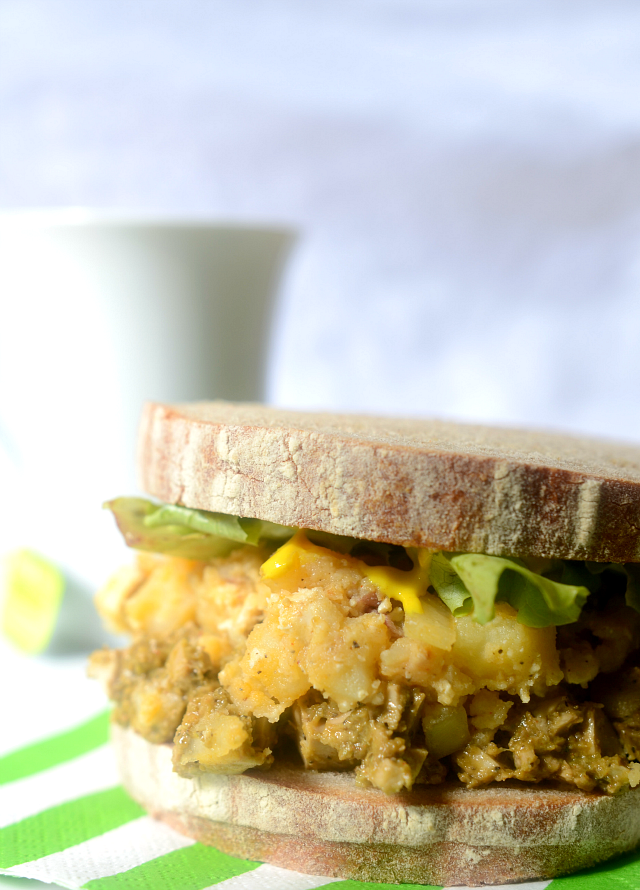 Apparently January 25th is "Opposite Day" which is definitely one of the most arbitrary "days" I've ever heard of. However, it offers me a great opportunity to contribute to my Seinfeld recipe series "The Old Switcheroo"* with this Vegan Avocado Chicken and Potato Salad Sandwich on Rye.
This sandwich is inspired by one of the best episodes of Seinfeld, The Opposite. In it, George concludes that his lack of success in life is because every decision he's ever made has been wrong. To change his life he decides to do the opposite of his instincts. His first opposite decision is to order the complete opposite of his usual lunch, tuna on toast. He instead orders chicken salad on rye (untoasted) with a side of potato salad and a cup of tea.
I love this episode so much because as ridiculous as it is, I can totally relate to the urge to go against my instincts. Like so many people nowadays I live with anxiety that makes my instincts untrustworthy. If I followed my "gut feelings" I would never leave the house. I have to ask myself questions and negotiate with my instincts all the time, and in those moments I often remember this episode. It reminds me that I have the choice to do the opposite of what my feelings suggest, and more often than not the opposite of my instinct is to calm down.
Not to get heavy in a post about a sandwich. This sandwich truly deserves the whole spotlight because it's 1) ridiculous and 2) super tasty. It's two different salads on one sandwich which sounds crazy, but it just works so well.
Due to my distrust of mayo (vegan or otherwise) I used avocado as the binding force in the Vegan Avocado Chicken Salad. It's seasoned with simple seasonings like garlic and onion as well as lemon zest for freshness and malt vinegar for tang. It reminds me of the chicken salads I use to eat in my pre-vegan days when I was trying to be fancy.
The potato salad is an updated version of my Oma's Potato Salad. There's no mayo in that recipe either, but it's still fluffy and delicious. My Oma's recipe uses hard boiled eggs and bacon, so I made it vegan friendly with tofu and vegan bacon. I also took it to another level by adding a whole head of roasted garlic. The roasted garlic gives it a roasty sweetness that you don't usually associate with potato salad. It's so good though. Oma's potato salad is a family favorite, but I've served this vegan version to my family with total success. Good food is good food!
If you're feeling a little down today take comfort in the fact that it's Opposite Day. Trade your usual meals for their complete opposites, and try again. If every instinct you have is wrong then the opposite would have to be right.
Vegan Avocado Chicken and Potato Salad Sandwich on Rye
Serves 1
Ingredients:
2 slices rye bread, untoasted

Roasted Garlic Potato Salad

(recipe below)

Vegan Avocado Chicken Salad (recipe below)

mustard

a few pickle slices

lettuce

a cup of your favorite tea
1. On the first piece of bread spoon on as much Vegan Avocado Chicken Salad as you'd like. I use about 1/3-1/2 cup. Place the same amount of Roasted Garlic Potato Salad on top of the vegan chicken salad. Top the potato salad with mustard, pickle slices, and lettuce. Top the sandwich with the second piece of bread, and cut the sandwich in half before plating. Serve with your favorite cup of tea.
Roasted Garlic Potato Salad
Ingredients:
1 head garlic

3 tablespoons + 1 teaspoon olive oil

4 medium sized yukon gold potatoes, peeled or unpeeled, cut into 1 inch cubes

1/2 cup extra firm tofu, sliced into 1 inch strips

1/2 teaspoon kala namak, (Indian black salt)

3 slices vegan bacon, cut into bite sized pieces (I use Sweet Earth Benevolent Bacon)

1/2 teaspoon vegetarian bouillon base

1 tablespoon water

1 teaspoon apple cider vinegar

1/2 medium onion, diced

salt and pepper to taste
Directions:
1. Preheat your oven to 400°F.
Cut the top off of your garlic head so that every clove is exposed. Drizzle the exposed cloves with 1 teaspoon of the olive oil, and wrap the garlic head tightly in aluminum foil. Place the foil wrapped garlic in the preheated oven, and let it roast for 30 minutes.
Remove the garlic from the oven, and carefully unwrap it. The garlic
cloves should be soft and lightly browned.
Set it aside to cool completely.
2. While the garlic roasts place the potatoes in a large pot, and cover them completely with water by a few inches. Add a generous amount of salt to the water, and bring the potatoes to a boil over medium high heat. Boil the potatoes until they're tender enough to pierce with a fork, about 20 minutes. Drain the potatoes and set them aside.
3. While the potatoes and garlic cook, prepare your other ingredients. In a large mixing bowl combine the tofu and kala namak, and set this aside.
4. Heat 1 tablespoon of the olive oil in a small skillet over medium heat. Add the vegan bacon to the skillet, and fry it until it starts to brown, about 3-5 minutes. Transfer the cooked vegan bacon to the bowl with the tofu.
5. In a small bowl whisk together the bouillon base and the water. Add this mixture to the tofu and bacon along with the remaining 2 tablespoons of olive oil, apple cider vinegar, and onion.
6. Once the potatoes and garlic are done add them to the bowl with the other ingredients. Use a strong spatula to combine everything. While you're mixing the salad be sure to smoosh the potatoes a bit to create a more cohesive salad. You can also use a potato masher, but be sure not to mash too much or you'll end up with mashed potatoes. 2 or 3 mashes is all you need. At this point, if the salad is too dry for your liking add a little more oil. Season the salad with salt and pepper, and

store it in an airtight container in the fridge until you're ready to use it.
Vegan Avocado Chicken Salad
Ingredients:
1 medium sized ripe avocado

1 tablespoon malt vinegar

1 teaspoon fresh lemon zest

1/2 teaspoon agave nectar

1 teaspoon black pepper

1/2 teaspoon sweet smoked paprika

1/4 teaspoon garlic powder

1/4 teaspoon onion powder

9 ounces Lightly Seasoned Beyond Chicken Strips, thawed if frozen

salt to taste
Directions:
1. Add the avocado, malt vinegar, lemon zest, agave nectar, black pepper, paprika, garlic powder, and onion powder to a food processor or blender. Process or blend the mixture until it's completely smooth and combined.
2. Cut the Beyond Meat Chicken Strips into 1/2 inch pieces, and then use your knife to give those pieces a rough chop. They should be bite sized, and not totally uniform. Transfer the chopped Beyond Meat to a large mixing bowl.
3. Pour the dressing over the Beyond Meat, and use a spatula to stir the mixture until it's completely combine. Salt the salad to taste, and store it in an airtight container in the fridge until you're ready to use it.
Shared to:
*name inspired by
this scene
Let's be friends! Follow HV on

Facebook

,

Google+, Pinterest

,

Bloglovin'

and

Instagram

! You can also get House Vegan posts delivered right to your inbox by clicking

here

!