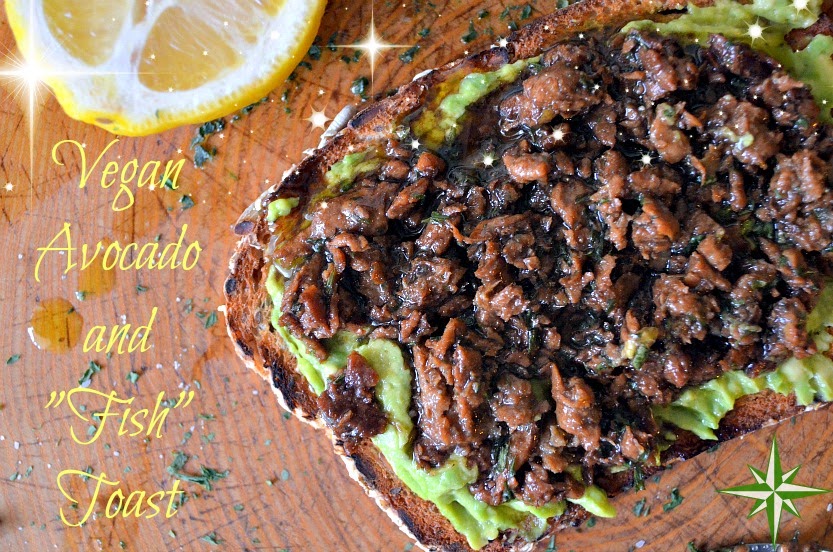 This Avocado and Fish Toast has been a long time coming for me. A few months ago my husband started incorporating a variation of this recipe into his daily routine in an effort to eat more avocado and lean protein. However, he is not vegan so the fish on top of his avocado was actual fish. Every now and then I'd join him with some avocado toast of my own, and while straight avocado toast is nothing to shake a stick at I found myself wanting more. The lemony smell and oily drippiness of his toast was something I wanted to partake in. I thought about doing this with chickpeas or white beans, but I wanted to avoid the mushiness of beans. The solution came one afternoon while I was walking through our local co-op a few weeks ago. I saw that Sophie's Kitchen Vegan Toona has finally been released in our region!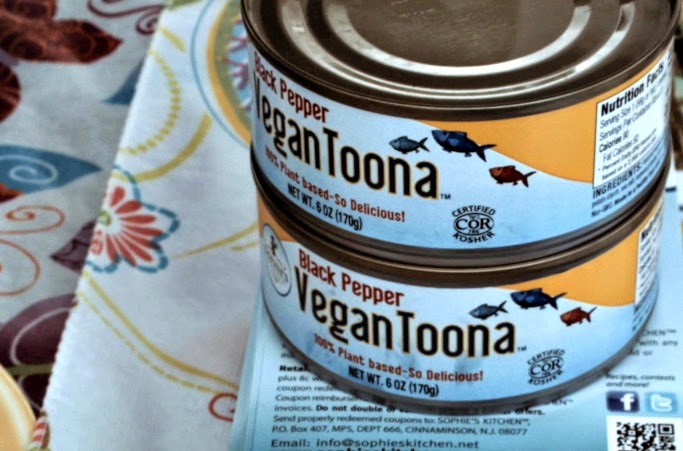 I tried the toona at Texas Vegfest this year and loved it. It comes in a can that looks just like a traditional tuna can! I love details like this because it takes me back to my pregan days.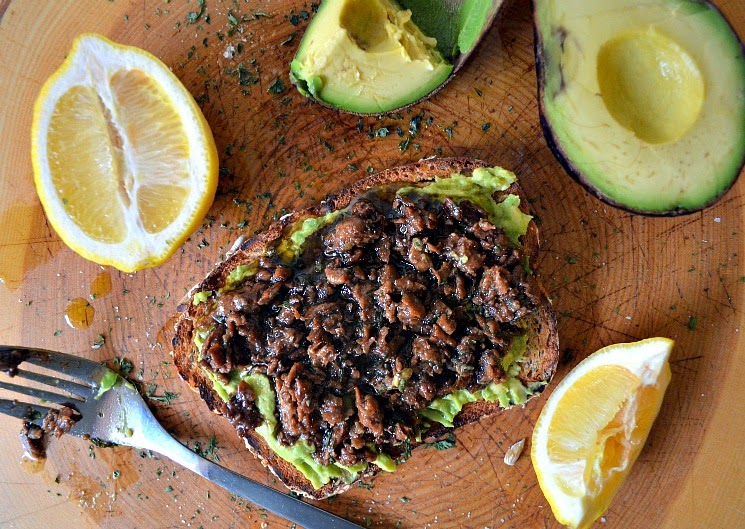 This Avocado and "Fish" Toast is a great lunch time option for busy summers. I don't know about you, but my June has been jam packed! The husband has been busy working summer camps, and I've been busy celebrating my birthday. The Geminis in the room all know that birthdays for us last much longer than just the one day. We have birthday weeks! Now that things are calming down a bit I'm ready to settle into this new age and chapter of my life. The husband and I have big plans for this year 🙂
Vegan Avocado and "Fish" Toast – Serves 1
1 6oz can Sophie's Kitchen Vegan Toona, Sea Salt

2 teaspoons dried parsley

1 tablespoon balsamic vinegar

1/4 teaspoon lemon zest (reserve the lemon and cut into four quarters)

black pepper to taste

1/2 ripe avocado, mashed

1 slice of thick crusted bread, toasted

salt for sprinkling
1. In a bowl combine the toona, parsley, vinegar, zest, and pepper. Add a small pinch of salt to taste.
2. Spread the mashed avocado onto the slice of toast. Spoon a third of the toona mixture onto the avocado. Store the remaining toona in an airtight container in the fridge for later use. Season the avocado and fish toast with the juice from one lemon wedge and a sprinkle of salt. Serve.