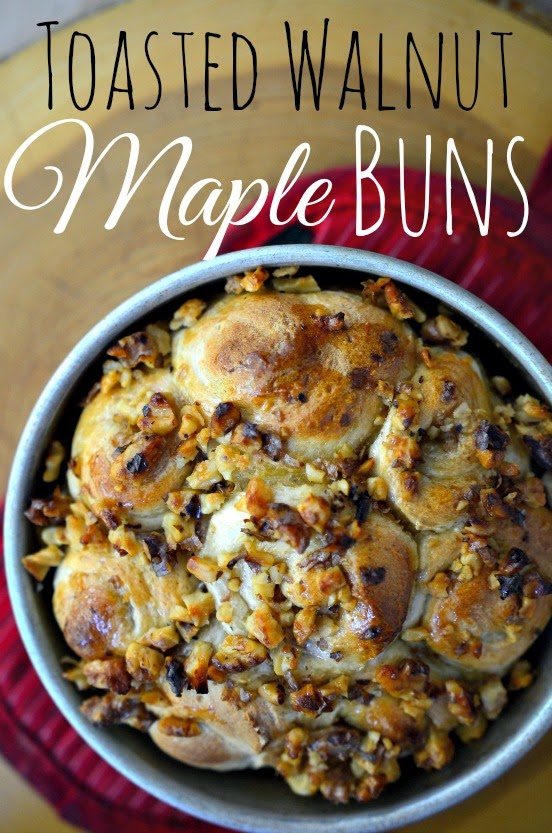 I love Fall flavors of every kind. There are the obvious flavors like pumpkin, cinnamon, and apple. Then there are the not-so-obvious flavors like maple, toasted nuts, and peanut butter. Am I the only one that associates these with Fall?
These Toasted Walnut Maple Buns are an amazingly easy Fall breakfast to put together.
The maple and toasted walnuts smell like heaven next to brewing coffee.
My husband usually isn't a fan of sweet breakfasts so I wasn't sure he'd like these, but before I had finished my first he had already eaten three! They're not overly sweet like you might expect a maple dish to be.
These get their ease from using frozen dinner rolls or dough. For this batch I actually used plain store bought pizza dough. I stretched it out, rolled it up, and cut it into 8 slices – cinnamon roll style. I just cooked them a little longer than the package directions. It worked nicely!
Toasted Walnut Maple Buns
Adapted from Easy Honey Buns from The Winnie the Pooh Cookbook
Ingredients:
1 lb package of frozen or refrigerated dinner rolls (or make your own – about 16oz worth)

2 tablespoons chopped walnuts

2 tablespoons maple syrup
1. In a small skillet over medium heat toast your walnuts until they're nice and fragrant.
2. In a small bowl combine the nuts and maple syrup. Set this aside.
3. Bake the rolls according to the package or recipe directions. Five minutes before they are done pull them out of the oven, and brush the nut mixture evenly over the tops.
4. Return the rolls to the oven to finish baking.
5. Serve warm with a hot cup of coffee or tea.