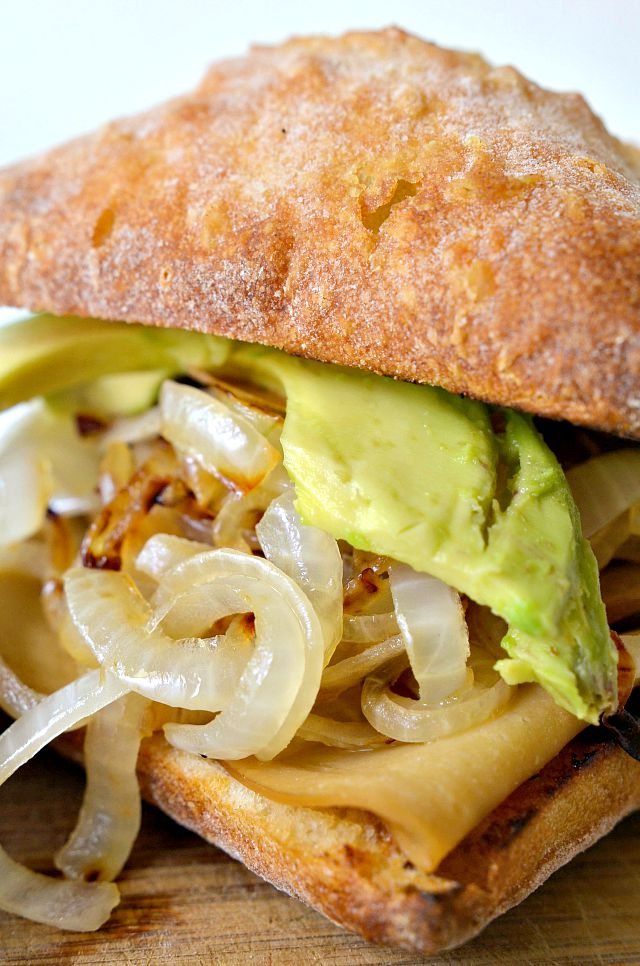 I know, it's such a giant picture of a sandwich. My love for it is huge so the picture should be, too. This, dear readers, is my all-time favorite sandwich: The French Dip. My version is extra special because it's loaded up with caramelized onions, avocado, and au jus-soaked Tofurkey. It's big, it's juicy, it's amazing, and it's the star of my MoFo post for the prompt

Best sandwich ever

.
But first: I'm doing another mini giveaway! If you're into tea, pumpkins, or Fall, I think you're gonna like it.
My book is so close to being done which means it's time for another Fall giveaway. This time I'm giving away this adorable acorn tea infuser paired with pumpkin spice tea. It's not even Labor Day, but I'm so ready for pumpkin tea. The giveaway details are on the bottom of this post, but you should consider reading about this sandwich first. I swear it's stellar.
Actually, the real star of my french dip is the au jus. It's deeply flavored, and it gives this sandwich its greatness. I've been making this recipe for so long (almost 10 years) that I can't remember where the au jus came from. Did I copy it down from a website? Did I find a recipe similar to this one and alter it? I don't know! So if you published an au jus recipe like this one about 10 years ago, let me know. Also, thank you for changing my sandwich game forever.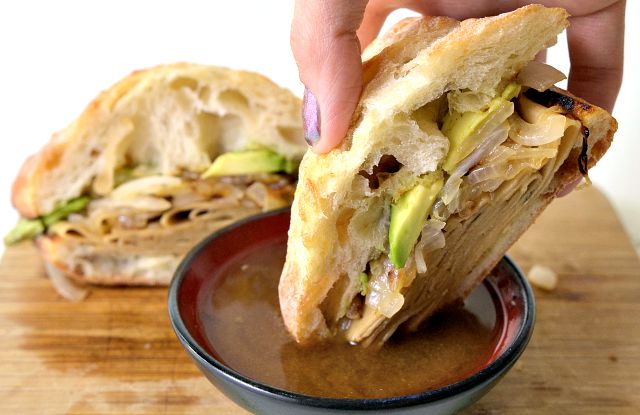 Look at that dip. This may be a strong statement, but I think it's the greatest sandwich I've ever made. It's warm, it's hearty, it's savory, it's got a variety of textures, and flavors. It's just wonderful. Make it. Make it now, and then let me know how much you love it.
Before doing that though, be sure to enter my giveaway. Here are the deets:
This giveaway is –


Open from 9/05/15 9PM CT to 9/12/15 9PM CT

For US residents only

For readers 18+ (No exceptions)
I'm keeping this giveaway easy peasy, so to enter, just –
Comment on this post telling me your favorite sandwich.

Earn another entry by referring a friend to the giveaway. Just make sure they mention your name in your entry so I know!
Good luck! And please, make this sandwich. You're gonna love it.
The Best Vegan French Dip Sandwich – Makes 2 Sandwiches
Au Jus
Ingredients:
1 cup vegetable broth

1 teaspoon miso paste

1 tablespoon soy sauce

1/2 teaspoon thyme

1/2 teaspoon oregano

1/2 teaspoon garlic powder
Vegan French Dip Sandwich
Ingredients:
1 batch of Au Jus

12 slices of Tofurkey Deli Slice (or your favorite vegan slices)

1 tablespoon olive oil

1 medium onion, thinly sliced

vegan margarine

2 individual ciabatta rolls, sliced

1 avocado, mashed

ground black pepper
Directions:
1. First make the au jus by whisking together all of the au jus ingredients together in a small saucepan.
2. Place the saucepan over low heat. Add the Tofurkey slices to the au jus, and cover the pan. Let it just barely simmer while you prepare the other ingredients. You don't want to cook the au jus or Tofurkey, just keep them warm.
3. Meanwhile, heat the olive oil in a large skillet over medium heat. Add the onions and slowly cook them, stirring occasionally, until they turn a deep golden brown. Do not turn up the heat to make it cook faster. The slower cooking is necessary to develop the flavor. When the onions are done remove them from the skillet.
4. Spread the margarine onto the sliced sides of the the ciabatta rolls, and place them margarine side down onto the skillet just until toasted. Remove them from the heat.
5. Assemble the sandwiches by evenly distributing the warmed Tofurkey, caramelized onions, and avocado between the two ciabatta rolls.
6. Pour the warm au jus into two ramekins to serve with the sandwiches.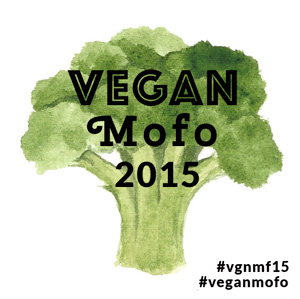 Let's be friends! Follow HV on Facebook, Google+, Pinterest, Bloglovin', and Instagram! You can also get House Vegan posts delivered right to your inbox by clicking here!