Before telling you about this Seitan Bourguignon we gotta go to that good ol' disclaimer: Housevegan.com is a participant in the Amazon Services LLC Associates Program, an affiliate advertising program designed to provide a means for sites to earn advertising fees by advertising and linking to Amazon.com. This post contains Amazon affiliate links.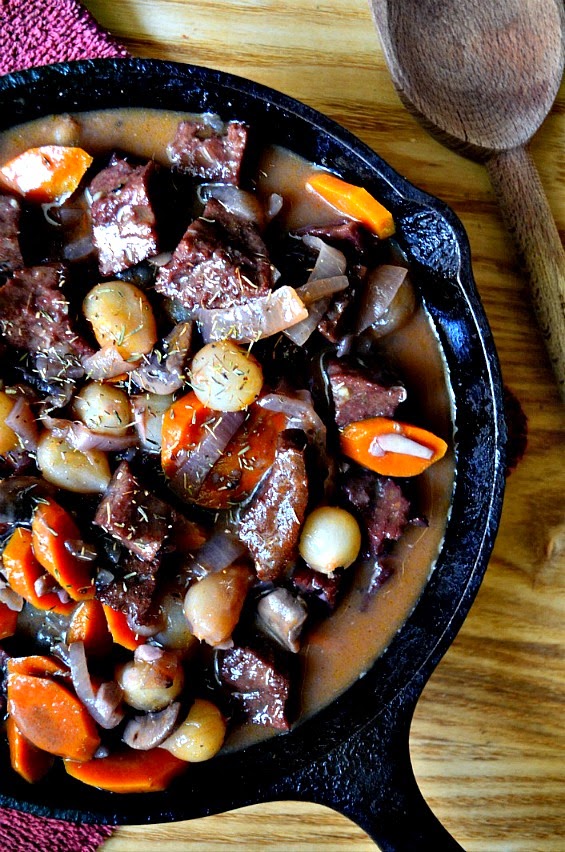 This Seitan Bourguignon came about in an effort to recreate one of my husband's all time favorite comfort foods.
From living for a short period in France as a young boy to his father's tradition of making it every Christmas,
Boeuf Bourguignon
is a dish rooted in love and nostalgia for him.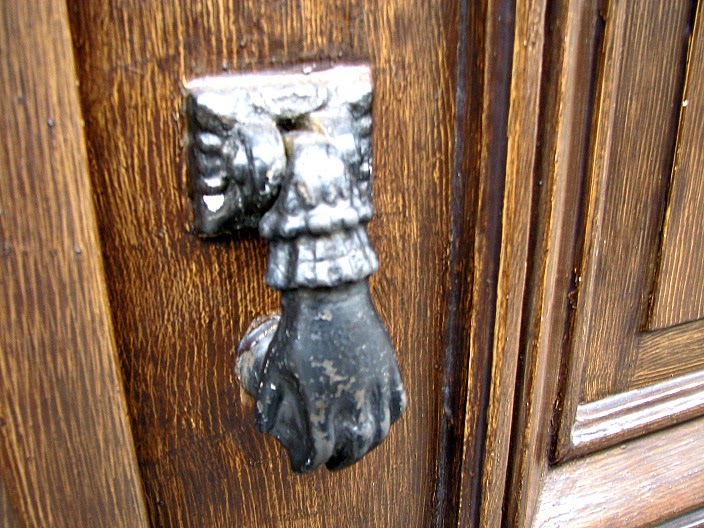 This is the door knocker on the apartment in Montmartre where he resided with his father and brother. Very bohemian!
I've been attempting to properly recreate this dish for years. The broth was never the right texture,
the lack of smokey bacon resulted in a shallower flavor, and
the meat stand-in was always off. The broth needs to be (for lack of a better term) gelatinous while the "boeuf" needs to be fully infused with the flavor of the stew. I experimented with bought seitan and Gardein beefless tips, but neither absorbed any flavor. The flavor needed to be present at the source so I decided to make my own red wine infused seitan.
The red wine infused seitan turned out perfectly! The red wine not only provided the seitan with the proper flavor, but it also gave it a great stew-y color. To solve the problem of the broth I used a
beurre manie and a little bit of cornstarch.
For the bacon issue, I roasted some heavily salted mushrooms and added a huge spoonful of Magic Vegan Bacon Grease to the finished bourguignon. I won't say that the vegan bacon grease is a must, but it certainly takes this to the next level!
How did my husband like it? He LOVED it! He absolutely loved it. It was by far the best vegan stew I've ever made. I served it on top of mashed potatoes per his request, and it was one of the most homey and comforting meals to ever come out of my kitchen. It makes a ton, too! We ate it for days and days and then froze the leftovers. We actually ate the leftovers earlier this week, and I'm happy to report that it freezes just fine!
This recipe is not for the faint of heart in terms of health food. It is full of fat, wine, and gluten. Nature of the beast!
Mentioned in this post and recipe:
Incredible Vegan Seitan Bourguignon
Adapted from Ina Garten's Beef Bourguignon
by
Aug 05 2014
Red Wine Seitan (makes 2 lbs):
2 small eggplants

1/4 cup canola oil

1 1/2 cups red wine (I used a cheap Merlot)

2 tablespoons soy sauce

1 teaspoon onion powder

2 teaspoons garlic powder

1 3/4 cups vital wheat gluten

1/2 cup chickpea flour

1/3 cup nutritional yeast
Incredible Vegan Seitan Bourguignon:
8 oz button mushrooms, thinly sliced

4 tablespoons olive oil

2 lbs Red Wine Seitan, large diced

1 pound carrots, thickly sliced

2 yellow onions, sliced

4 garlic cloves, minced

1 750 mil bottle of dry red wine (I used Pinot Noir)

3 1/2 cups of vegetarian chicken broth, homemade or bought

1 tablespoon tomato paste

1/2 teaspoon dried thyme

1 pound frozen and peeled pearl onions

1 pound cremini or button mushrooms, halved and medium sliced

5 tablespoons Earth Balance or other vegan margarine

4 tablespoons flour

1 teaspoon cornstarch
1. Preheat your oven to
350°F degrees
. Slightly grease a skillet or line a baking sheet with parchment paper.
2. Halve the eggplants, and prick the skin with a fork a few times. Place the eggplants cut side down onto the prepared skillet or baking sheet, and roast them for 25-30 minutes until they are completely soft. Allow it to cool completely before handling – around 15-20 minutes.
3. While the eggplant cools keep the oven on, and line a small cake pan with parchment paper. Make sure you have a slightly bigger pan that your cake pan will fit into. You're going to be baking the seitan in a water bath.
4. Scoop the mushy insides of the cooled eggplant into a ½ cup measuring cup, and discard the skin. If you don't reach half a cup with the roasted eggplant just add enough water to get you there. Pour the eggplant into a medium sized bowl.
5. To the eggplant add the wine, canola oil, and soy sauce, and stir to combine. Set aside.
6. In a large bowl combine the vital wheat gluten, chickpea flour, nutritional yeast, and onion and garlic powders. Stir in the eggplant mixture, and mix until a wet ball of dough has formed.
7. Pour the dough into the prepared cake pan. Place the pan into a larger pan, and pour enough water in the outer pan to go halfway up the sides of the seitan pan. Cover the seitan pan with greased foil, and bake for 2 hours – until the top of the seitan is firm. Allow to cool completely before handling.
Seitan Bourguignon Instructions
1. Heat your oven to 450°F degrees. On a baking sheet toss together the 8 oz of mushrooms with 2 tablespoons of oil and a generous sprinkle of salt. Roast for 15 minutes. Toss the mushrooms with a spatula and roast for 15 more minutes or until crispy. Set aside.
2. Heat the remaining 2 tablespoons of olive oil in a large pot or dutch oven over medium heat. Sear the seitan cubes until they're browned on all sides. Remove the seitan from the pot and toss in salt and pepper to taste.
3. In the same large pot cook the carrots and onions until the onions are starting to brown. Add the garlic, and a pinch of salt and cook for 30 more seconds.
4. Pour in the wine, broth, tomato paste, thyme, pearl onions and remaining mushrooms. Bring to a boil, and reduce the heat to medium low. Simmer partially covered for about 20 minutes.
5. Add the seitan and continue to simmer for another 10 minutes partially covered. Meanwhile, mash together the Earth Balance, flour and cornstarch in a small bowl with a fork.
6. Stir the Earth Balance/flour mixture into the seitan bourguignon, and continue to let it simmer until thickened. Taste for salt, and add a big heaping spoonful of Magic Vegan Bacon Grease (if using).
7. Serve with mashed potatoes or by its self with crusty baguette. Délicieux!