Before moving on to these
Pumpkin Spice Oatmeal Cookie Sandwiches
here is a disclaimer: Housevegan.com is a participant in the Amazon Services LLC Associates Program, an affiliate advertising program designed to provide a means for sites to earn advertising fees by advertising and linking to Amazon.com. This post includes affiliate links.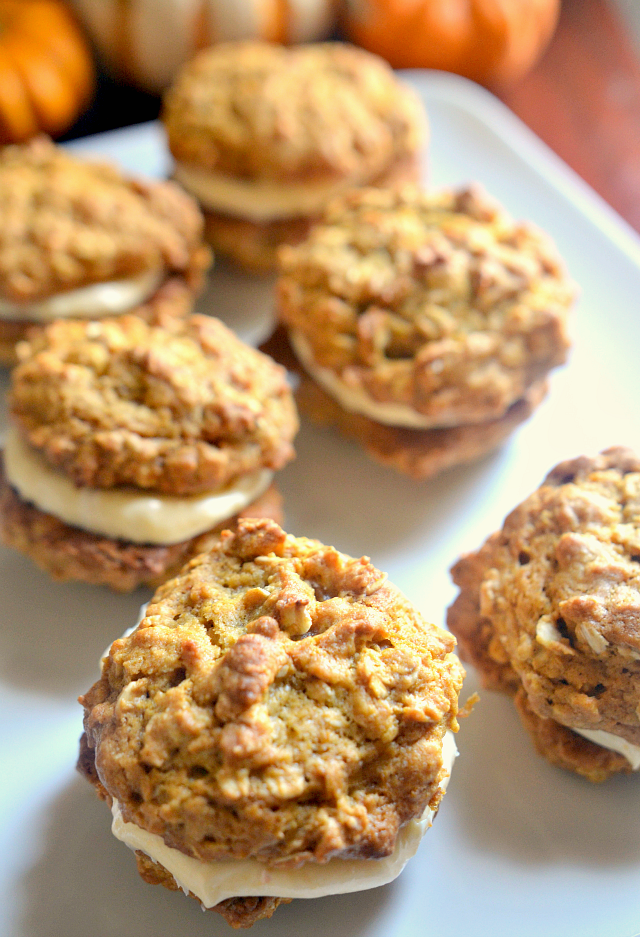 True story: I only got to eat like two of these Pumpkin Spice Oatmeal Cookie Sandwiches. I gave the rest to my husband to share with his coworkers, and I was more than happy to see them go. They were really sweet and delicious, and I couldn't be trusted not to eat all of them at an alarming speed.
Speaking of alarming speeds, this fall is flying right on by. Why do I only get 31 days to celebrate Halloween?? There are so many movies to watch, treats to eat, pumpkins to love, and so on. However, I have my FAL going and my fall calendar is set up so I know there's plenty of time to do the things I love. I just need to sit back and accept that months are what they are, and no amount of pouting is going to change that in 20 days it won't be acceptable to eat candy everyday or wear my jack o' lantern earrings.
The good news is that when I adjust my perspective I see that I have 20 whole days to do all of the Halloween stuff that I love. Like this afternoon I ate a pumpkin cinnamon roll, and tomorrow I'm making pumpkin spice meringue. So I'm crushing it.
These sweet little sandwich cookies are wonderful to have around if you haven't gotten your fill of sugar yet this fall. You can also make the cookies on their own for a super homey and slightly less sugary treat.
One thing to note is that these aren't the thin and soft oatmeal sandwich cookies of your youth. The cookies are thicker and more cake like.
We're knee deep into fall, you guys. Like it or not Halloween is coming, and then it'll be Thanksgiving, and then Christmas! What are you doing to keep yourself feeling festive and happy these days?
Pumpkin Spice Oatmeal Cookie Sandwiches
Ingredients:
1 1/2 cups rolled oats

1 1/2 cups all-purpose flour

1 tablespoon cornstarch

1 1/2 teaspoons pumpkin pie spice

1 teaspoon baking soda

1 teaspoon salt

3/4 cup pumpkin puree

1 cup brown sugar

1/2 cup granulated white sugar

1/2 cup vegan margarine (such as Earth Balance), melted

1 cup prepared white icing, store-bought or homemade
Directions:
1.

Preheat your oven to 350°F, and line a large baking sheet with parchment paper or a silicone mat.
2. In a large mixing bowl, combine the oats, flour, cornstarch, pumpkin pie spice, baking soda, and salt. Set this aside.
3. In a smaller mixing bowl, whisk together the pumpkin puree, brown sugar, granulated white sugar, and
margarine
.
4. Pour the pumpkin-sugar mix into the bowl with the flour, and stir the mixture until it's combined and the flour is completely absorbed.
5. Drop the cookies 2 inches apart and by the tablespoon onto the prepared baking sheet. Bake for 12-15 minutes until they begin to brown around the edges.
6. When the cookies are done, transfer them to a cooling rack. Allow them to cool completely before proceeding.
7. Spoon about 2 teaspoons of icing (just eyeball it) onto one of the cookies. Top the icing with another cookie, and viola! You have a sandwich cookie. Repeat this step with the remaining cookies and icing.
Shared to: