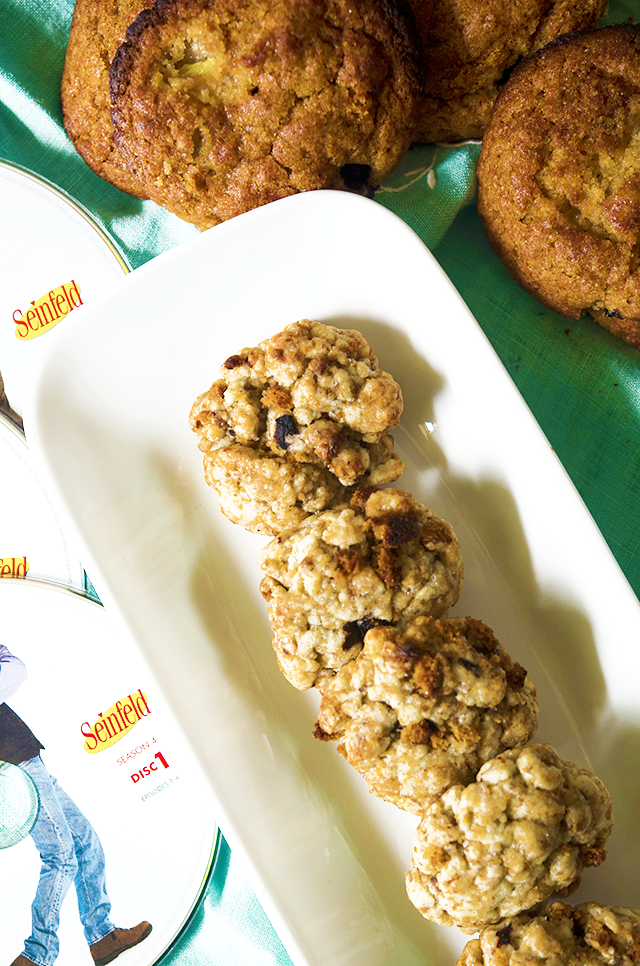 A couple of weeks ago I shared a recipe for
Vegan Blueberry Peach Muffin Tops (as inspired by Seinfeld), and I hinted to an idea for using up the stumps. I didn't want to arbitrarily ask you to remove tops from muffins without a use for the stumps so I came up with a really fun cookie idea. I mean, when in doubt make it a cookie, right? I honestly just made that saying up, and I super love it.
This recipe is as easy as it gets. It's my all-purpose drop cookie recipe with bite-sized muffin pieces folded in. Seriously, it's barely a recipe, but they're so good! The folded-in muffin pieces make the cookies taste a little like breakfast with each bite. My husband even liked them more that the actual muffin tops.
Because the cookie dough recipe is all-purpose you can do so much with it. You can add different baking spices, extracts, and mix-ins to create any flavor combination. Imagine combining leftover blueberry muffins with some lemon zest and poppy seeds. Or how good would it be to fold in leftover chocolate muffins with a swirl of peanut butter? The opportunities are endless.
Never let a borderline stale muffin or muffin stump go to waste again. Just remember my brand new philosophy: When in doubt make it a cookie.
How To Make Cookies from Leftover Muffins
by Hannah Teson Jan 16 2017
1 1/4 cups all-purpose flour

1 tablespoons cornstarch

1/4 teaspoon baking powder

1/2 teaspoon salt

1/2 cup room temperature vegan margarine – creamed with sugar

1/2 cup granulated sugar – creamed with butter

1 1/2 teaspoons vanilla extract

3-4 tablespoons unsweetened non-dairy milk

1 1/2 cups bite-sized muffin pieces (I just used my hands to tear them into pieces)
1. Preheat the oven to 350°F, and line a large baking sheet with parchment paper, or a silicone baking mat.
2. In a large mixing bowl, combine the flour, cornstarch, baking powder, and salt.
3. In another mixing bowl, cream together the margarine, sugar, vanilla, and 3 tablespoons milk. Pour this mixture into the flour, and stir until the ingredients are completely combined. If the mixture is too dry, add the remaining tablespoon of milk.
Fold in the muffin pieces.
4. Drop the cookie dough onto the prepared cookie sheet by the tablespoon, leaving 1-inch between each cookie.
5. Bake the cookies for 10–12 minutes, or until the cookies are brown and crispy around the edges.
Yield:
approximately 16 cookies