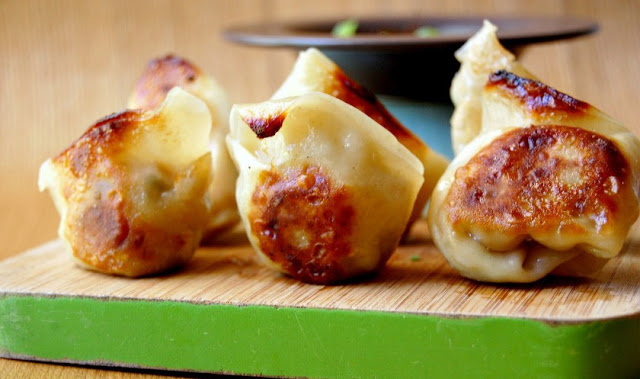 It'
s a good idea to have a go to dumpling recipe. The prepackaged ones are great, but the ingredients can be suspect and who doesn't like to pick their own fillings?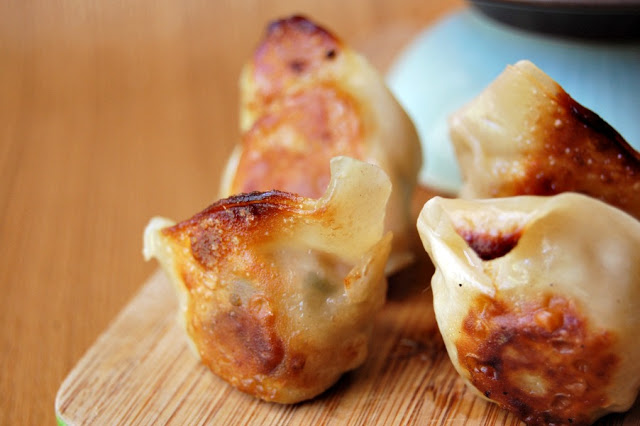 Sure you can pan fry them, but you can also add them to broth for a light meal or pre-dinner soup.
Best of all you can make a bunch and freeze them for a rainy day. So convenient.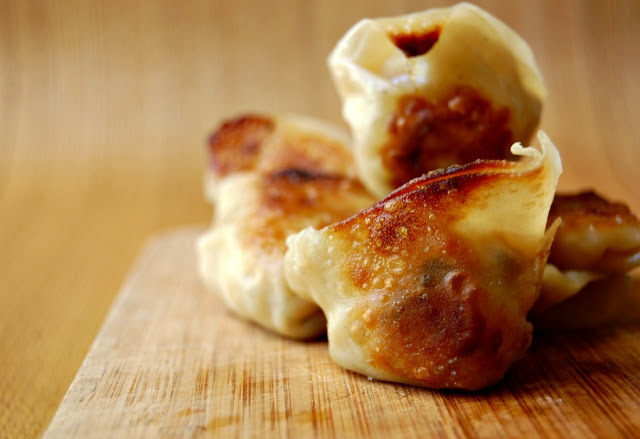 Homemade Shiitake and Tofu Wontons
Adapted from the Gyoza recipe in Asian Vegan Kitchen
Ingredients:
1 tablespoon olive oil

1 tablespoon sesame oil

2 garlic cloves, chopped

1/2 inch cube fresh ginger, peeled and minced

3 fresh shiitake mushroom caps, chopped

1/2 small green cabbage, shredded (about 1 1/2-2 cups)

1/4 cup sliced scallions

4 ounces firm tofu, crumbled

1 tablespoon soy sauce

1/2 teaspoon salt

1 teaspoon cornstarch

30 vegan wonton wrappers (Read the ingredients! Many contain egg.)

Lil bowl of water
1. In a large skillet, heat the oils over medium high heat. Add the garlic and ginger and cook until fragrant, about 30 seconds.
2. Add the mushrooms, cabbage, scallions and tofu. Turn the heat to high and cook until the liquid from the tofu has evaporates, about 3-5 minutes.
3. Add the soy sauce and salt and cook until the liquid has been absorbed. Sprinkle with the cornstarch and give a good stir. Remove the mixture from the heat.
4. Put a rounded teaspoon of the filling into the middle of a wonton wrapper, moisten the edges with water and fold to seal, pressing the edges into each other. If using round wrappers, leave the shape as is (like a half moon). If using square wrappers, make your wontons in a kind of tortellini shape by bringing the corners together and pressing them to hold the shape. This is a good demonstration from Youtube.
5. At this point you can put them in a single layer on a cookie sheet to freeze. After they're frozen, toss them in a plastic bag or tupperware and keep them for up to a month. If you want to cook them right way, I recommend panfrying:
Heat 2 teaspoons of oil in a skillet over medium high heat and add about 6-10 wontons. Cook them for 2-3 minutes until the bottoms are browned. Add 1/4 cup of water, quickly cover the skillet and cook until the water has been absorbed, about 2-3 minutes. Serve with whatever sauce you're loving.