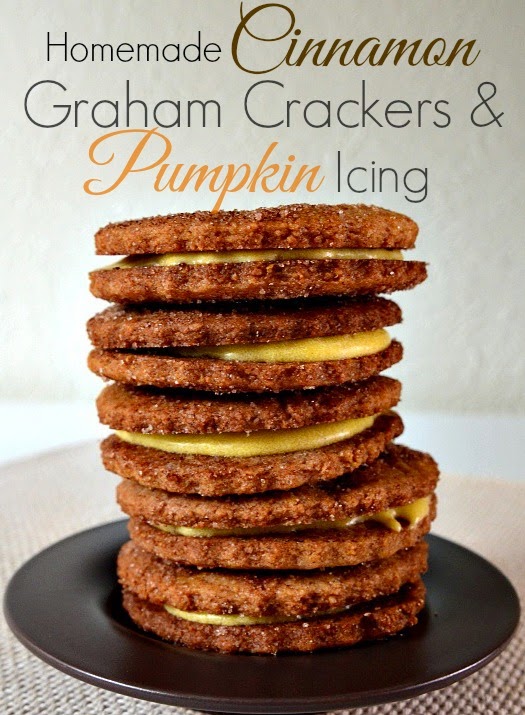 I know that pumpkin seems so last week, but these Homemade Cinnamon Graham Crackers and Pumpkin Icing are still totally relevant. Most people have moved on to chocolate peppermint and gingerbread, but you can't convince me that pumpkins lose their luster overnight. Gauche or no, I eat pumpkin until January and you should too. Starting with these cookies.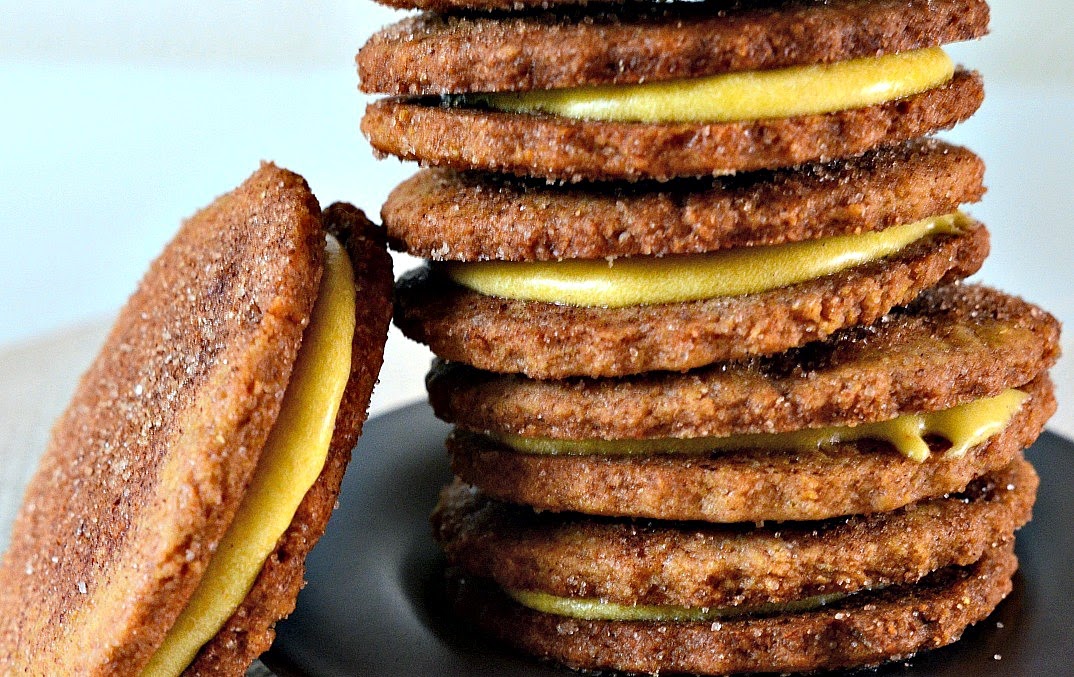 I've always preferred regular graham crackers to cinnamon, but these are delicious enough to almost convert me. They're crunchy, deep and so cinnamon-sugary. Trust me, you want these Homemade Cinnamon Graham Crackers. You just do.
Homemade Cinnamon Graham Crackers and Pumpkin Icing
Makes 12 sandwich cookies depending on your cutter
2 tablespoons sugar

1 1/2 teaspoons cinnamon
3/4 cup all purpose flour

3/4 cup stone ground whole wheat flour or graham flour

1/2 teaspoon baking soda

1/4 teaspoon salt

1 teaspoon cinnamon

1/2 cup Earth Balance

1/4 cup + 2 tablespoons brown sugar

2 teaspoons Bee Free Honee or Agave Nectar

1 tablespoon water
1. In a small bowl combine the cinnamon sugar ingredients. Set aside.
2. In a medium sized bowl combine the flours, baking soda, salt and cinnamon. Set aside.
3. Cream together the Earth Balance and sugar until fluffy. Mix in the honee and water.
4. Add the flours and to the sugar mixture and stir to combine. It should just come together without being overly wet. Don't over mix!
5. Separate the dough into two balls. To make standard graham crackers: Over a sheet of parchment paper roll the first ball into a rectangle about 6×9″ and 1/8″ thick. Cut the rectangle into 12 equal pieces and place the whole thing in the freezer. To make shapes: Roll out the first ball of dough to 1/8″ thick. Use a 2″ cutter to cut out 12 pieces. Repeat with the second ball and let them chill for 20 minutes.
6. Preheat the oven to 350 degrees and make your icing:
Pumpkin Icing
Adapted from Vegan Fluffy Buttercream Frosting in Vegan Cupcakes Take Over the World
Ingredients:
1 tablespoon Earth Balance

2 tablespoons pumpkin puree

1 1/4 cup powdered sugar (or more depending on the wetness of your puree)

1/4 teaspoon vanilla extract
1. In a stand mixer whip the Earth Balance and pumpkin until combined, and somewhat fluffed. Add 1 cup of the powdered sugar and whip for about two minutes. If more powdered sugar is needed add it a tablespoon at a time. Add the vanilla and whip for another minute until fluffy. It likely won't be as fluffy as buttercream, but that's ok. Refrigerate until ready to use.
7. Remove the first sheet of dough from the freezer and place the whole thing on a baking sheet. Sprinkle some cinnamon sugar over each cracker before baking them for 10 minutes, rotating the pan in the oven half way through. The edges should be slightly browned when the crackers are done. Let them cool for a minute or two then transfer them to a cooling rack. Repeat with the second sheet of crackers.
8. Let the crackers cool completely, at least 30 minutes, before putting on the icing.
9. When the crackers are cool remove the icing from the fridge. Spread about two teaspoons of icing on one cracker and top the icing with another cracker. Repeat until you're out of crackers. Store in the fridge for up to three days.
Before you go can we talk about The Holidays for a second? Are you ready for them? I'm so ready for them. We've simplified Christmas this year, and I'm finding it even more enjoyable than past years. I'm excited to spend time with my family and friends for the entire month. I'm excited to post my holiday eats and treats, and I'm excited to see what y'all are doing for the holidays!
Let's be friends! Follow HV on Facebook,Google+, Pinterest, Bloglovin', and Instagram! You can also get House Vegan posts delivered right to your inbox by clicking here!