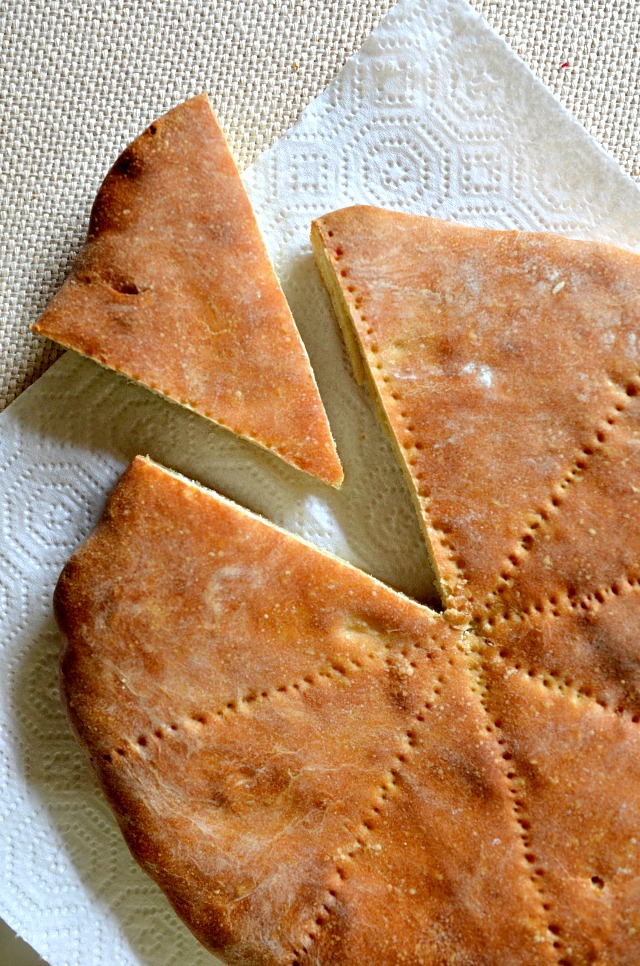 My Grandma's Syrian Bread is a family favorite, and one that I'm happy to share today. It's one of those foods that is served with every family meal and get together. It looks, smells, and tastes like home to me.
I actually spent quite a bit of time with my grandparents this weekend. Due to scheduling issues, I wasn't able to attend Vida Vegan Con so I was happy to get time in with the fam. Just because I wasn't at VVC doesn't mean I didn't stalk #vidavegancon on Instagram. I'm sad I wasn't able to go to the whole event because it looked like so much fun. My husband and I were able to go to the Vegan Bazaar though, and that was a good time. I held a jackfruit at the Upton's Naturals table: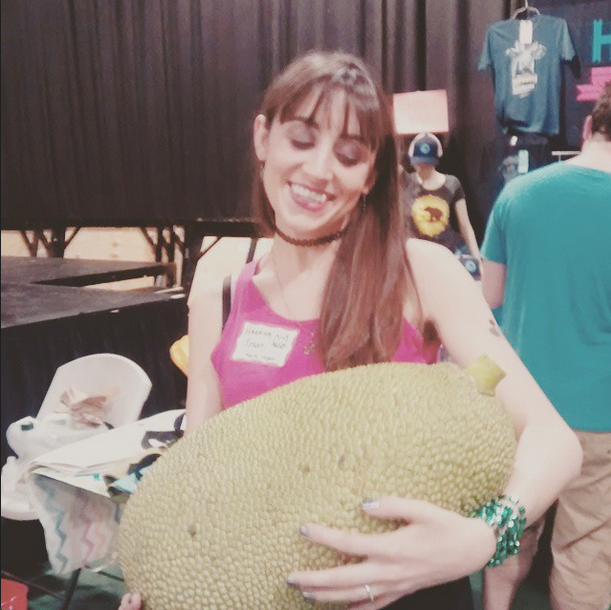 He ate a pizza while wearing his pizza shirt: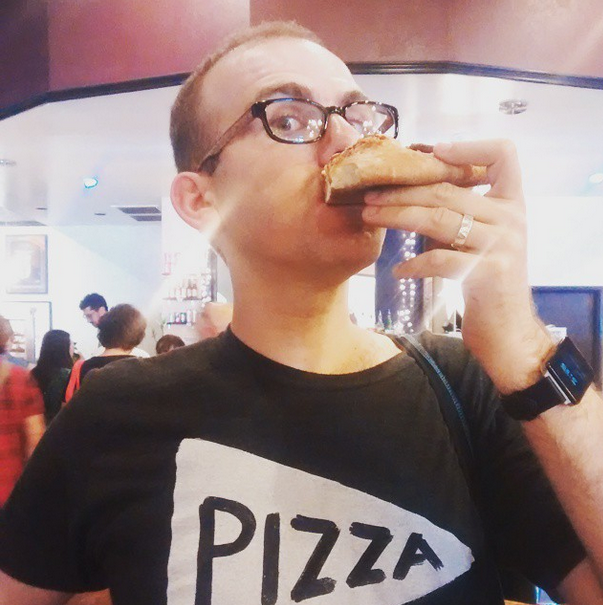 And we even said hello to our favorite company ever, Earth Balance:
It was a great event, and I wish I could have met and hugged all the bloggers. Maybe some other time. Anyway, back to the bread.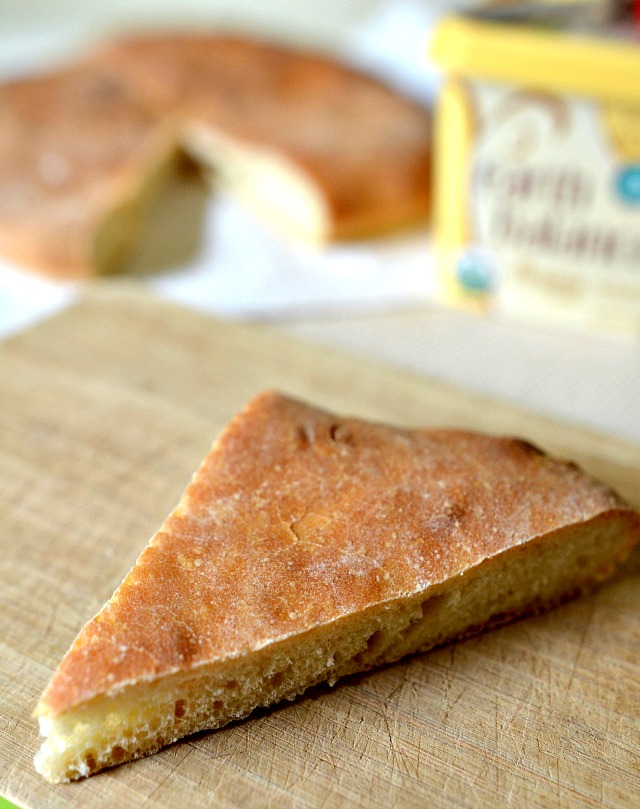 You may be assuming by the name that my grandmother is Syrian, but you'd be wrong. This recipe was given to my great-grandmother from her son's first wife, Lila, who was definitely Syrian. I've only seen one picture of her, but she was gorgeous! Even though she hasn't been been married to my great uncle in decades, we're all grateful for the gift she gave to generations of our family. This bread recipe went from Lila to my great grandmother to my grandmother to me to you. You lucky ducks.
Syrian bread is a very basic, goes-with-everything kind of bread. Its shape is flat, but it's not a flat bread. It's more like a fancier sandwich bread. Like if you took away the sweetness, and squishyness of sandwich bread you'd have something close to Syrian bread. It's a bit more robust, and covered with that gorgeous brown crust.
We eat it with everything. I love it toasted and smothered in Earth Balance spread and
jam
for breakfast, and my husband especially enjoys it with vegan Sloppy Joes.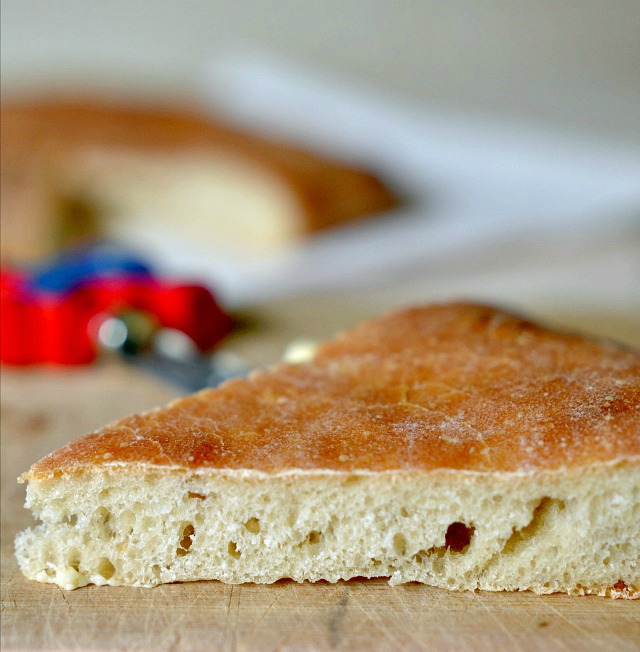 This family recipe was naturally vegan so I didn't have to adjust a thing. The recipe you're getting here is legit, unchanged, delicious, homey, and perfect.
You'll get 4 loaves out of this recipe so you can freeze a few for later. Just allow the loaves to cool at room temperature before placing them uncovered in the freezer. Once frozen, put them in plastic freezer bags, and store in the freezer for at least a month.
Although I'm a girl who appreciates the easiest path in the kitchen I can't recommend baking your own bread enough. It's therapeutic, gives you control over ingredients, and is another outlet to pour love onto your friends and family.
Grandma's Homemade Syrian Bread – Makes 4 Loaves
1 package of bread yeast, or 2 1/4 teaspoons

2 1/2 cups warm water

1 tablespoon granulated sugar

1 1/2 tablespoons salt

1 tablespoon olive oil

7 cups all purpose flour
1. In a large mixing bowl combine the yeast and water. Allow it to sit for 7-10 minutes, or until frothy.
2. Add the sugar, salt, and oil to the yeast mixture. Then add the flour gradually mixing with a strong spatula or wooden spoon.
3. Pour the dough onto a floured surface and knead for 5-7 minutes. Coat your mixing bowl with a light brush or spray of oil. Place the dough in the bowl, and cover it with a tea towel. Allow the dough to rise until doubled in size, about 1 1/2 – 2 hours.
4. Punch your dough down, and pour in onto a very lightly floured surface. Knead it a couple of times to get the bubbles out. Cut the dough into quarters, and roll each quarter into an 8-10ish inch circle. Cover the loaves with your tea towel, and let them rise for half an hour. Meanwhile, preheat your oven to 375 degrees fahrenheit.
5. After the second rise place the loaves on un-greased cookie sheets. Using a fork, poke holes in each loaf. The pattern should look like you're going to cut a pizza.
6. Bake in the preheated oven for 20 minutes. They should be golden, and smelling reeeeeally good when they're done. Allow them to cool for as long as you can stand it before digging in.
Shared:
Pin it!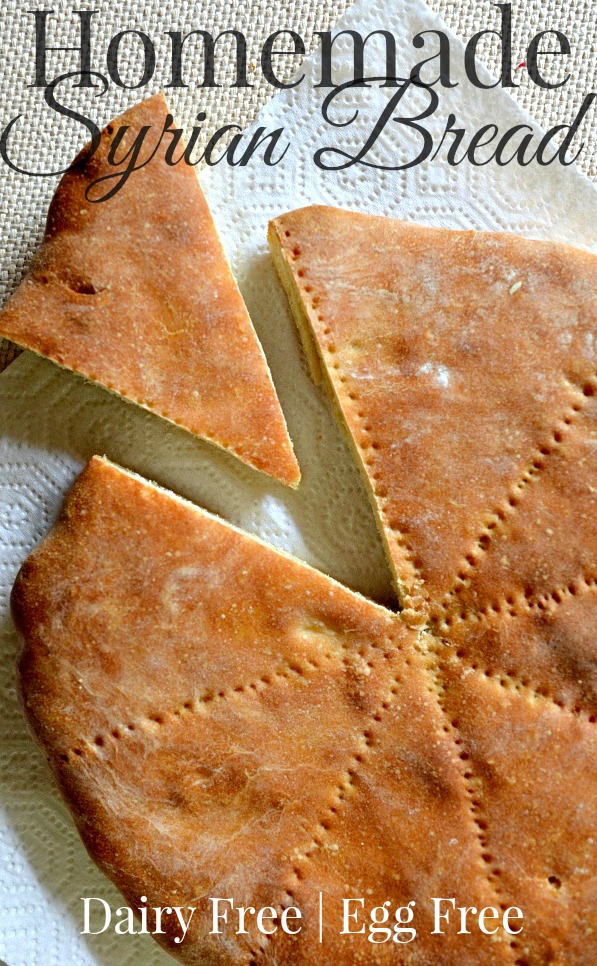 Let's be friends! Follow HV on Facebook, Google+, Pinterest, Bloglovin', and Instagram! You can also get House Vegan posts delivered right to your inbox by clicking here!