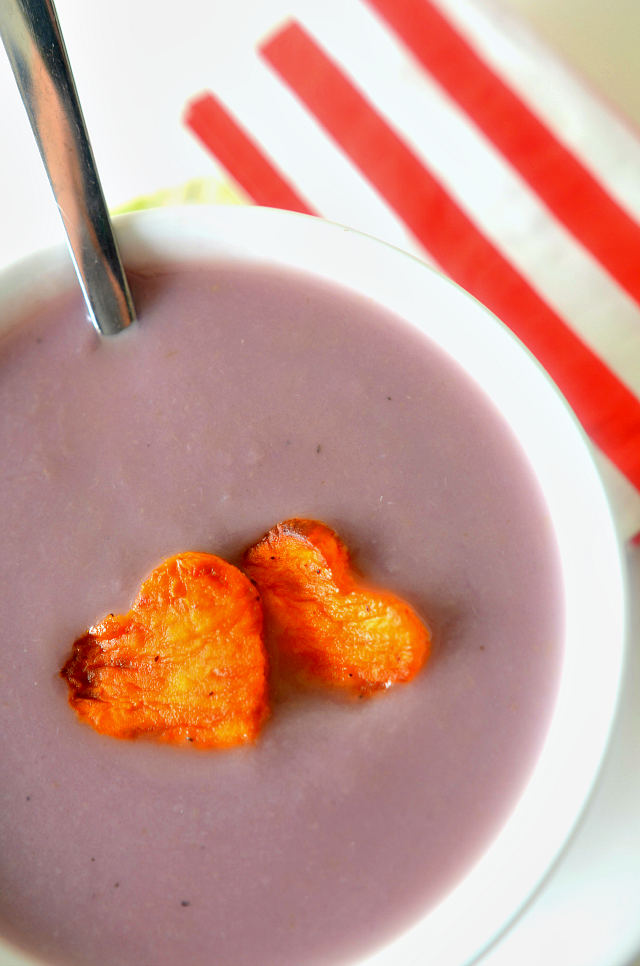 Y'all, I've missed you! I've been out for a month and a half for the holidays/getting-back-to-normalcy part of the year. Since New Years we've been pretty dedicated to our regular eating habits and workout schedule. We don't really make lifestyle resolutions. We just acknowledge that we're going to be physically ridiculous from October through December, but will get back to our regular habits in January. It's more fun that way.
This Creamy Red Cabbage Soup
was one of the first things I made post-New Years, and it was a refreshing change of pace for sure. After months of living on mostly bread, sugar, fried stuff, and alcohol, it was delightful to just eat a pure vegetable based seasonal soup.
We're usually not that wild over the holidays, but this year was particularly indulgent. There was a lot of pie. And candy. And drinks. So many drinks. Especially, once we got to Vermont for our Christmas vacation. Vermont has great food and beer, and I tend to lie to myself about whether or not there are calories during Christmas.
Who could be bothered with a view like that, anyway? We had such a great time, and left with no food or drink regrets. However, we're truly happy to be back to our CSA box.
This velvety red cabbage soup is a gorgeous mid-winter dish. The color is bright and romantic (a welcoming combo for the cold gray post-Christmas season),
the fennel and pear give it a balancing sweetness, and t
he roasted garlic provides a warm and inviting aroma.
I didn't add any herbs or extra spices because I adore the
simple flavor of the vegetables. If you prefer a soup with a little more going on, feel free to add whatever seasonings you like. But try it as is first. You may love it.
Creamy Red Cabbage Soup w/ Sweet Potato Hearts
Inspired by this soup from cavoletto.com
Roasted Garlic
This recipe calls for roasted garlic so be sure to make this first!
I
ngredients:
2 heads garlic

1 teaspoon olive oil
Directions:
1. Preheat your oven to
400°F.
2. Cut the tops off of your garlic heads so that every clove is exposed. Drizzle the exposed cloves with the oil, and wrap each head tightly in aluminum foil. Place the foil wrapped garlic in the preheated oven, and let them roast for 30 minutes.
The garlic should be soft and lightly browned when done.
3. Remove the garlic from the oven, and carefully unwrap them. Set them aside to cool completely.
4. Turn the oven down to 375
°F for the potatoes.
1 large sweet potato, peeled

1 tablespoon olive oil

large pinch salt

small pinch ground black pepper
Directions:
1. Preheat the oven to
375
°F if you haven't already.
Line a baking sheet with parchment paper, and set it aside.
2. Slice the potatoes into 1/4-1/2 inch slices. Us
ing a small heart cookie cutter, cut out heart shapes from each sweet potato slice.
3. In a bowl, toss together the sweet potato hearts, olive oil, salt and pepper.
4. Transfer the mixture to the prepared baking sheet, and place it in the preheated oven. Bake the potatoes for 25-30 minutes, flipping each heart over half way through cooking.
1 tablespoon

Vegan Magic

or olive oil

2 stalks celery, thinly sliced

1 medium sized onion, thinly sliced

1 fennel bulb, thinly sliced

1 medium sized ripe pear, peeled and cut into 1 inch cubes

1 small red cabbage, halved, cored, and sliced into 1 inch strips

1 large red potato, peeled and cut into 1 inch cubes

2 heads Roasted Garlic

5 1/2 cups water

1 cube vegetarian bouillon, or 2 teaspoons jarred

vegetarian bouillon

Salt and ground black pepper to taste

Sweet Potato Hearts for garnish
Directions:
1. Heat the Vegan Magic in a large pot over medium heat. Add the celery, onion, and fennel, and cook (stirring often) until the onion is soft and translucent.
2. Add the pear and cabbage to the pot, and cook them for 5-10 minutes, or until the cabbage has softened considerably.
3. Add the potato, garlic, water, and bouillon to the pot, and bring the mixture to a boil. Turn the heat down to bring the soup to a simmer. Partially cover the soup, and let it simmer for 40 minutes. The potatoes should be soft, and the flavors should be sufficiently mingled at this point.
4. Take the pot off of the stove, and use an immersion blender to puree it until it's nice and creamy. Salt and pepper the soup to taste before serving. Garnish with the Sweet Potato Hearts.
Pin it!