Before telling you about this Loaded Cashew Queso we gotta go to that good ol' disclaimer: Housevegan.com is a participant in the Amazon Services LLC Associates Program, an affiliate advertising program designed to provide a means for sites to earn advertising fees by advertising and linking to Amazon.com. This post contains Amazon affiliate links.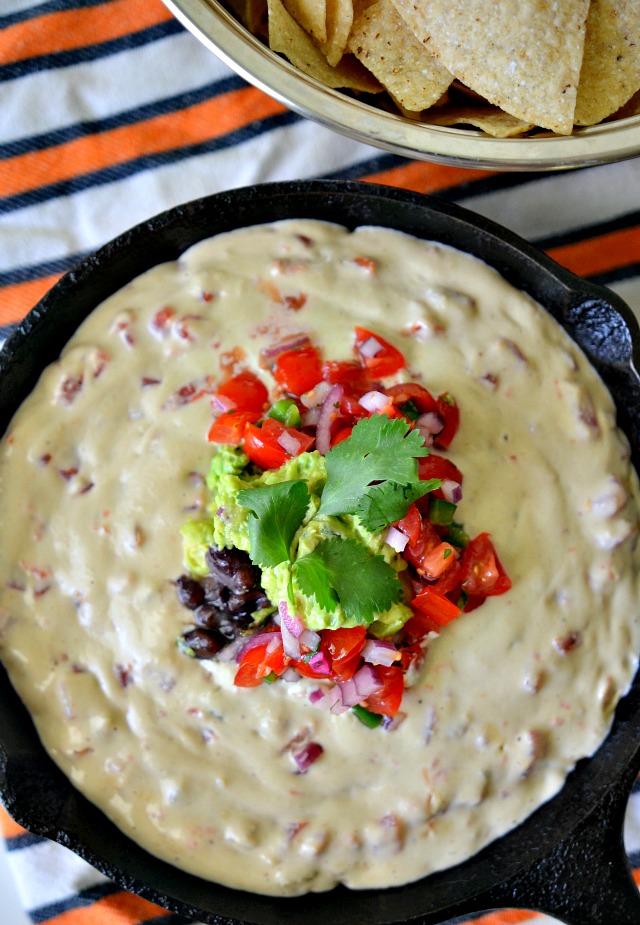 This gorgeous queso is my nod to Cowboy Queso, a popular menu item at a local restaurant here called Kerbey Lane. In my pre-vegan days, almost every post-swing-dance meal at Kerbey started off with a big bowl of their special queso containing black beans, guacamole, and pico de gallo.
My version contains almost the exact same components, but I swapped cashew queso for the dairy queso.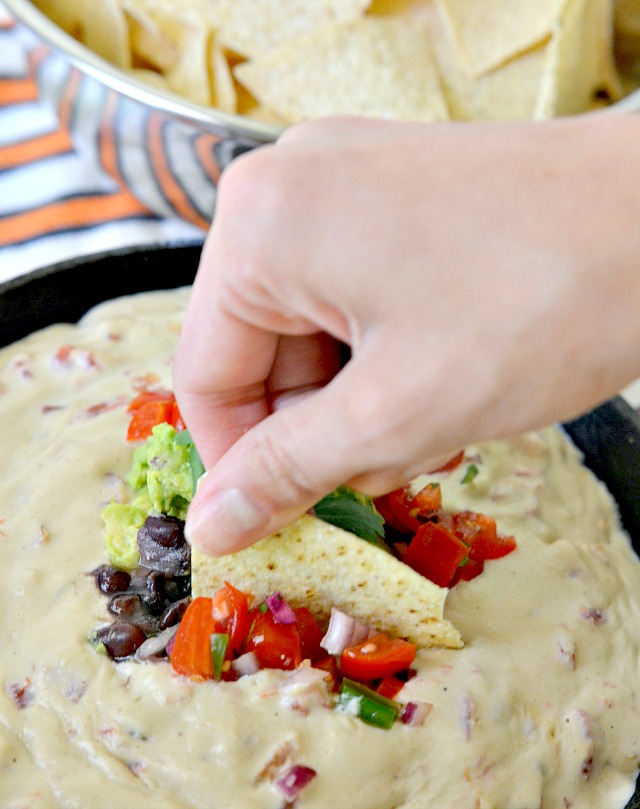 If you've never had nut-based queso, let me assure you – it's awesome. It's rich and creamy and without cholesterol or upset tummies from dairy. Does it taste exactly like dairy queso? Of course not, and it doesn't need to. It's an incredibly satisfying indulgence as is thanks to the wonderful fat and rich flavor of cashews. You're gonna love it.
Like it's non-vegan counterpart, Loaded Cashew Queso contains a lot of different components. First, you start with a shallow bowl or skillet: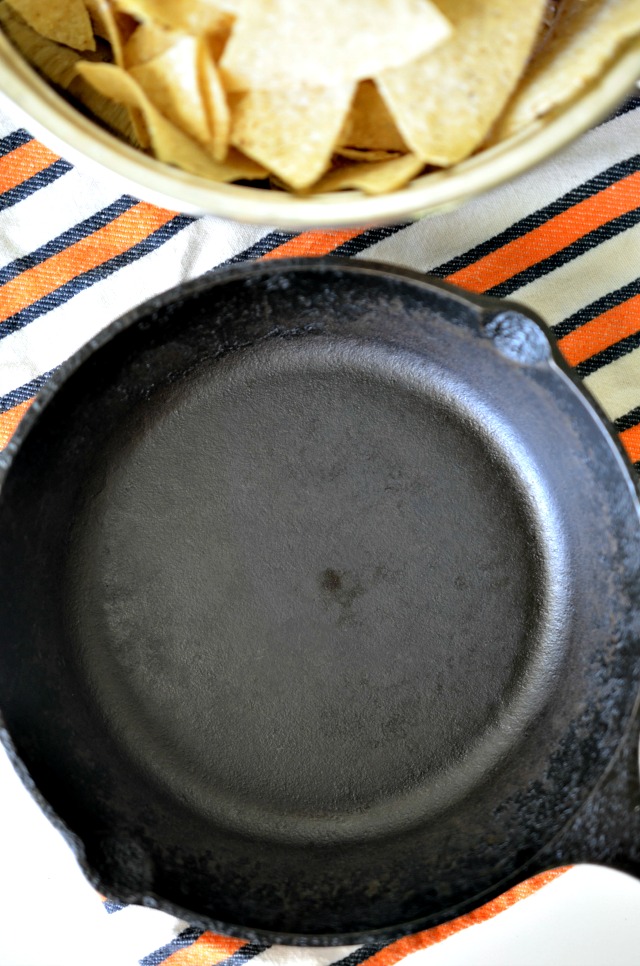 Then you layer. First layer: Black beans. Make sure they're warmed and salted.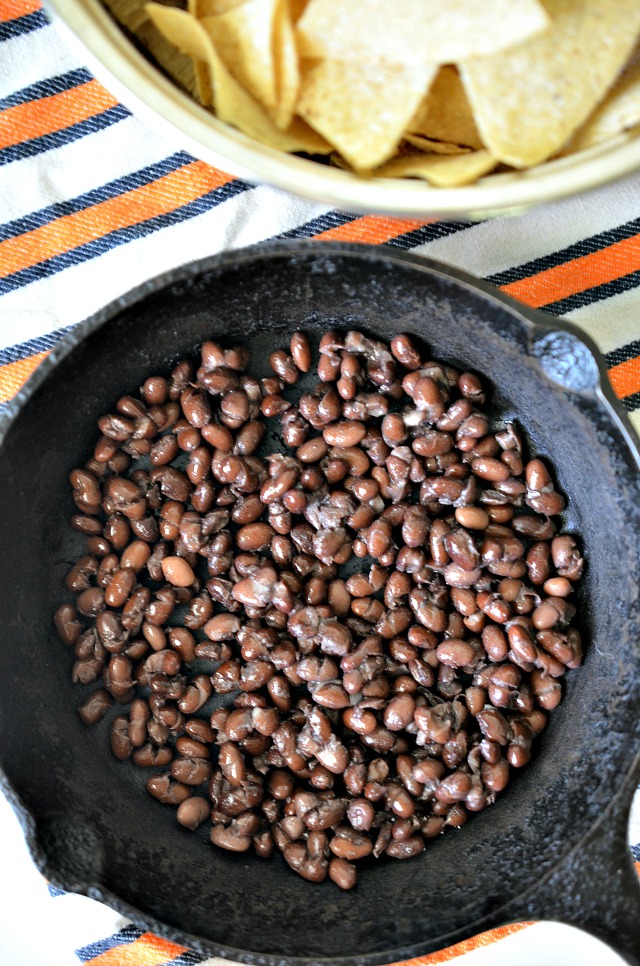 Second layer: Guac. Your favorite store-bought or homemade guacamole will do.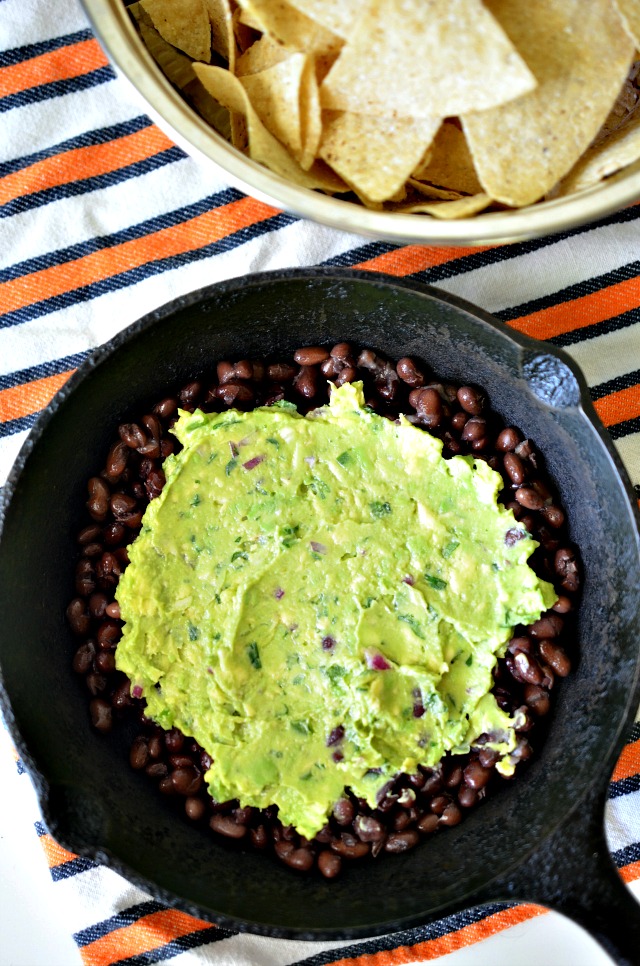 Third layer: Pico de Gallo. Not salsa, y'all. Pico.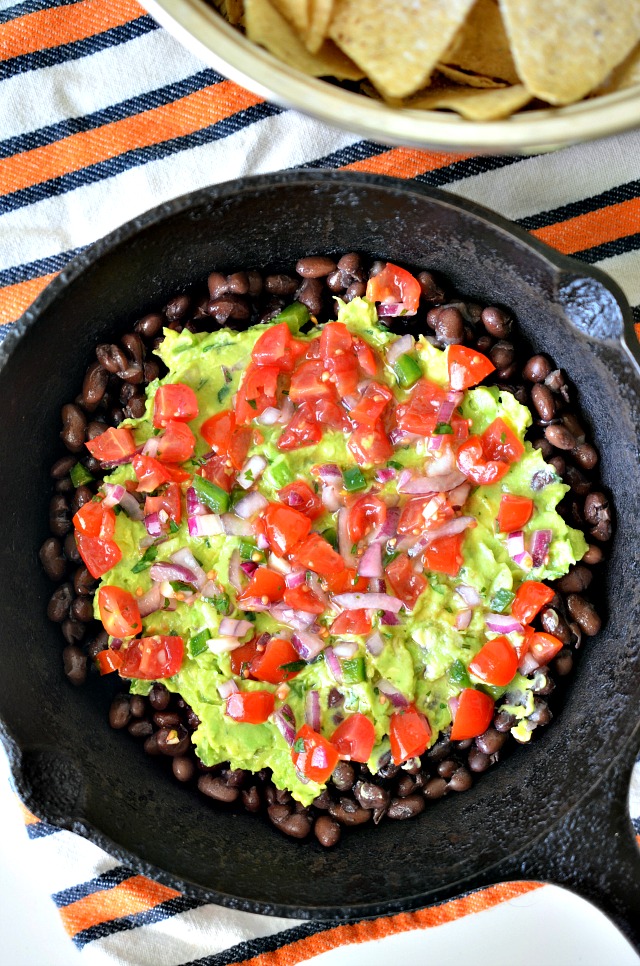 Fourth layer: Cashew Queso (recipe below). It's really what this whole dish is about.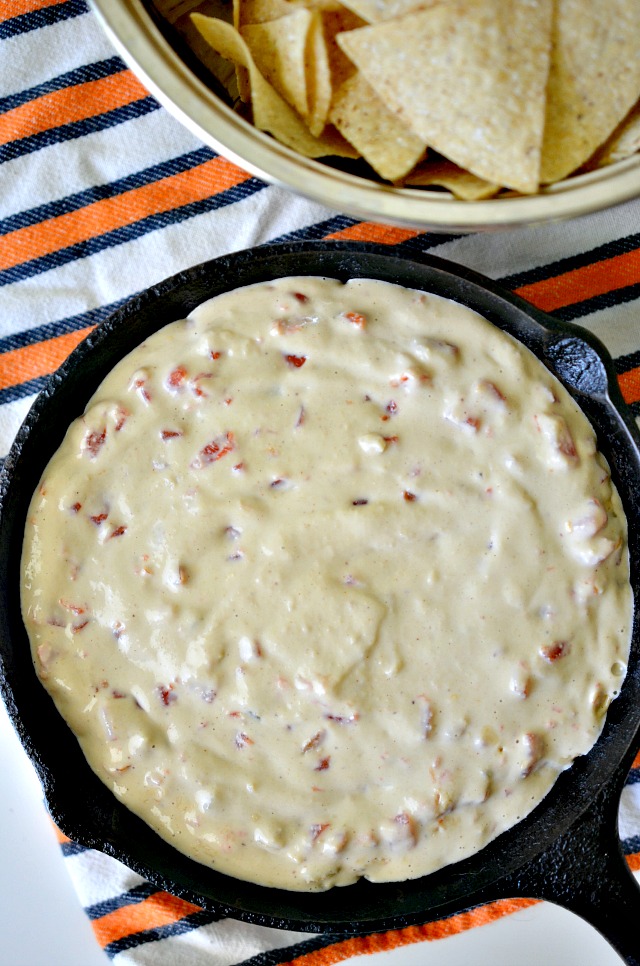 Then you garnish, and you've got your own Loaded Cashew Queso. How good is it? Good lord, it's as good as it looks. Rich, creamy, and comforting. It's perfect for parties, game nights, Tuesdays, midnight….. pretty much anytime. And you can adjust things based on your preferences. Dry beans or soupy beans, spicy or not spicy, chunky or smooth. There's room to play, and the result will likely always be great.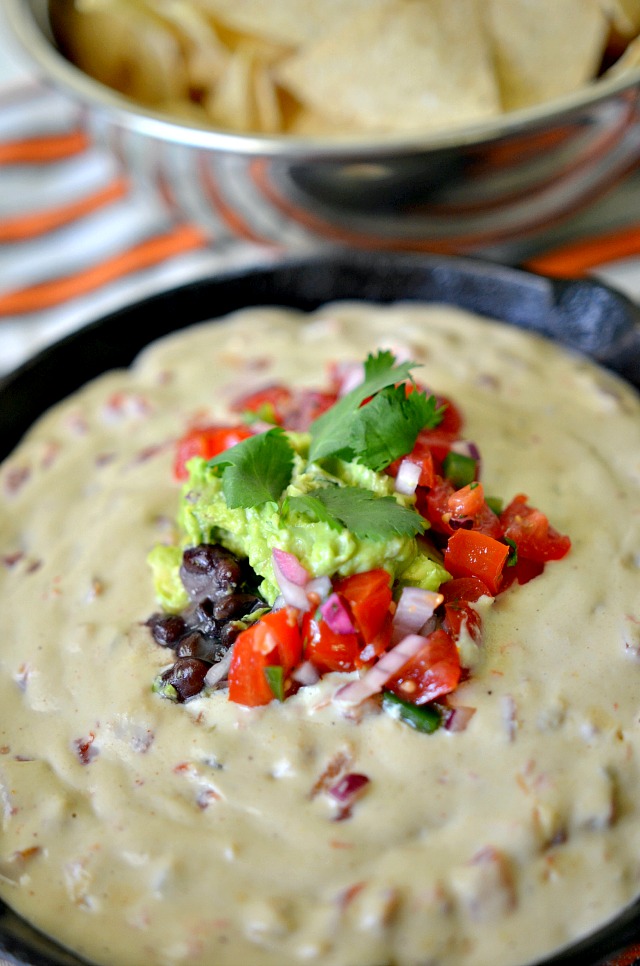 If you're wondering what gives this queso its cheesiness the magical ingredient is nutritional yeast. For those of you not in the know, I assure you it's normal. It's a deactivated yeast with a nutty, cheesy flavor. Health food stores carry it, but so do many commercial grocery stores. I can get it in bulk at my local HEB. Aside from tasting delicious, it's also quite nutritious. Most brands are fortified with B12, and a serving offers 9 grams of protein (a complete protein!) as well as a bit of iron. Also, it's yummy.
If you've been cashew cheese-curious or can't handle your
dairy
like you used to, definitely give this a try. I love it so much, and I'm confident you will too.
Mentioned in this post and recipe:
Loaded Cashew Queso
Ingredients:
1 1/2 cups (or a 15 OZ can, drained) black beans, warmed and salted to taste

1 cup cold guacamole, bought or homemade

1/2 – 3/4 cup cold pico de gallo (amount based on preference)

1 batch warm Cashew Queso (recipe below)

cilantro to garnish (optional)
Directions:
1. Separately spoon out heaping tablespoons of black beans, guacamole and pico de gallo, and set aside. These will be used for garnishing.
2. In a shallow bowl or small skillet assemble your

Loaded

Cashew Queso in this order: Beans, guacamole, pico de gallo, and queso.
3. Garnish the queso with the cilantro and reserved ingredients so that people can see what they're getting into.
4. Serve with tortilla chips.
Cashew Queso – Makes One Appetizer Size Batch
Ingredients:
1 cup raw cashew pieces (must be raw, not roasted)

3 tablespoons nutritional yeast

1 teaspoon salt

1/4 teaspoon garlic powder

1 1/4 cups water

2 teaspoons mustard

1 10 OZ can tomatoes with chilies (I use Whole Food's organic), drained (optional) *PLEASE READ NOTE BELOW

1 spoonful of

chili sauce

(optional)
Directions:
1. In a nut grinder or cleaned out coffee grinder, grind the cashews into a soft powder. Not too much, or you'll make cashew butter.
2. In a saucepan whisk together the cashew powder, nutritional yeast, salt, garlic powder, and water. Place the saucepan over medium heat, and whisk continuously until the mixture is thick and saucy like queso. Take the cashew queso off the heat, and whisk in the mustard.
3. Using an immersion blender (or regular blender with the lid ajar so it doesn't explode), blend the queso until smooth. I do this because my grinder doesn't make a fine enough cashew powder to avoid graininess. If your queso isn't grainy then feel free to skip this step.
4. If using, add the drained tomatoes with chilies and chili sauce to the queso. Return it to a low heat, to warm up. Serve warm with tortilla chips.
*If you're making the

Loaded

Cashew Queso, the tomatoes with chilies are optional since there's so much already going on with the other ingredients. However, if you're making plain Cashew Queso, don't omit the tomatoes with chilies.
Shared to:

Pin it!
Let's be friends! Follow HV on Facebook, Google+, Pinterest, Bloglovin', and Instagram! You can also get House Vegan posts delivered right to your inbox by clicking here!