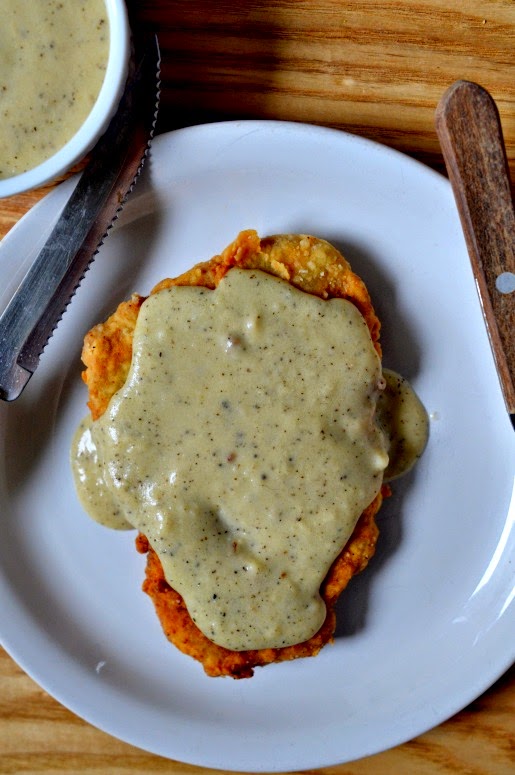 I don't think I'm ever not in the mood for
Country Fried Seitan
. Juicy seitan covered in flakey coating, and topped with an absurd amount of cream gravy? Yes please, and all the time.
I've gone through many different recipes for fried seitan, and I'm rarely fully satisfied. Sometimes it's because the seitan is too strongly flavored, not the right size, or has an off texture. Sometimes it's because the prep work is crazy messy. Most of time it's because the recipes are long and cumbersome. It's not always an easy feat to make your own seitan.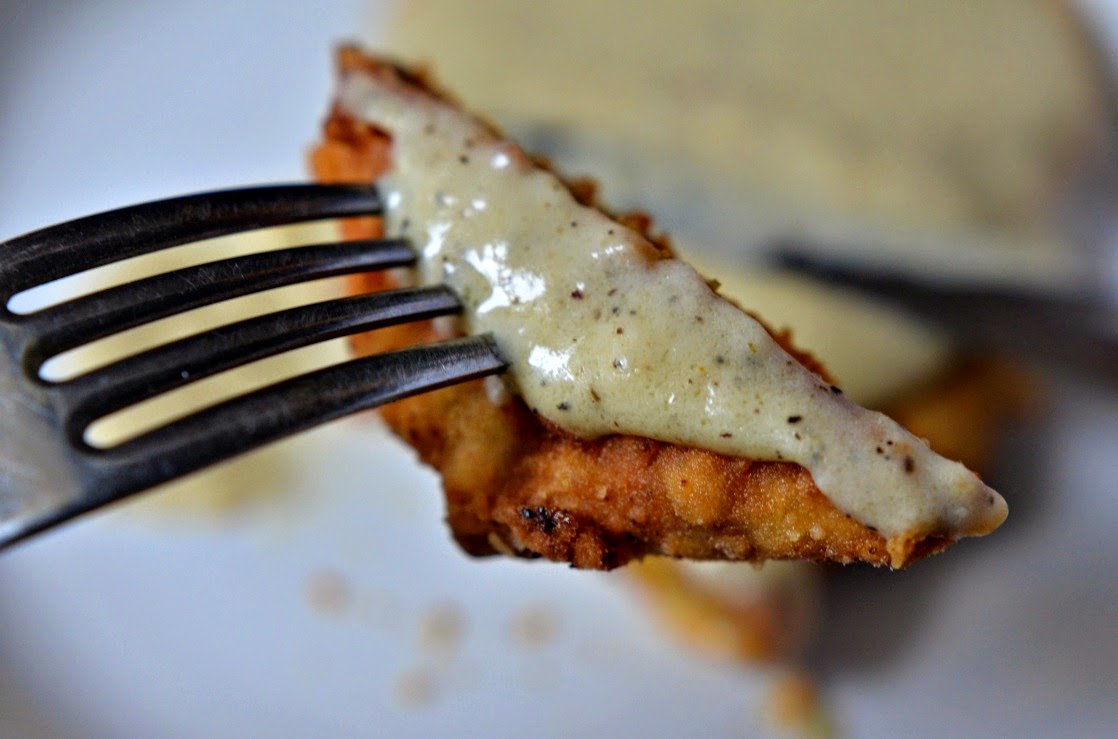 Finally, I have a recipe that couldn't be easier. It also tastes great and has the perfect texture. I'm attributing the success of that to my secret ingredient: that glorious gourd we all know and love, pumpkin.
I know what you're thinking. You're thinking I've taken things too far. Pumpkin in seitan? Too weird! It's not,though! Here's why:
The pumpkin does not impart flavor. There is too much going into this seitan, and the delicate taste of pumpkin doesn't stand up to the competing ingredients. Some seitan recipes use beans, but the beans impart a flavor. A wonderful flavor that I love, but a flavor. I love how comparatively mild the pumpkin is.

In my opinion, mild tasting seitan makes for the best vessel to pick up the taste of other ingredients.

Pumpkin keeps things juicy. Seitan is often a little tough by nature, and while some recipes defy this fact, I'm ok with heartiness of everyday seitan. However, the enjoyment of that texture goes right out the window if the seitan is also dry. Unfortunately, seitan dries out very quickly and parched, tough seitan is all too common. The pumpkin gives this an actual juicyness which is really pleasant.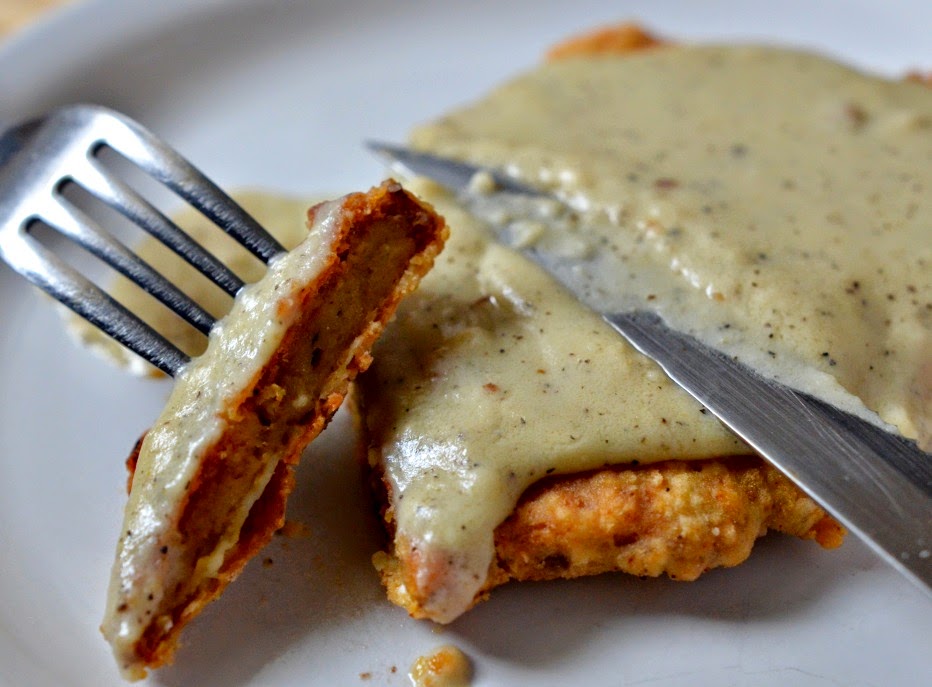 After taste, my favorite thing about this recipe is its ease. The seitan is so easy, you won't even believe it. And since the recipe is only for 4 cutlets, the amount of frying is small compared to this amazing recipe that I use to make for my fix.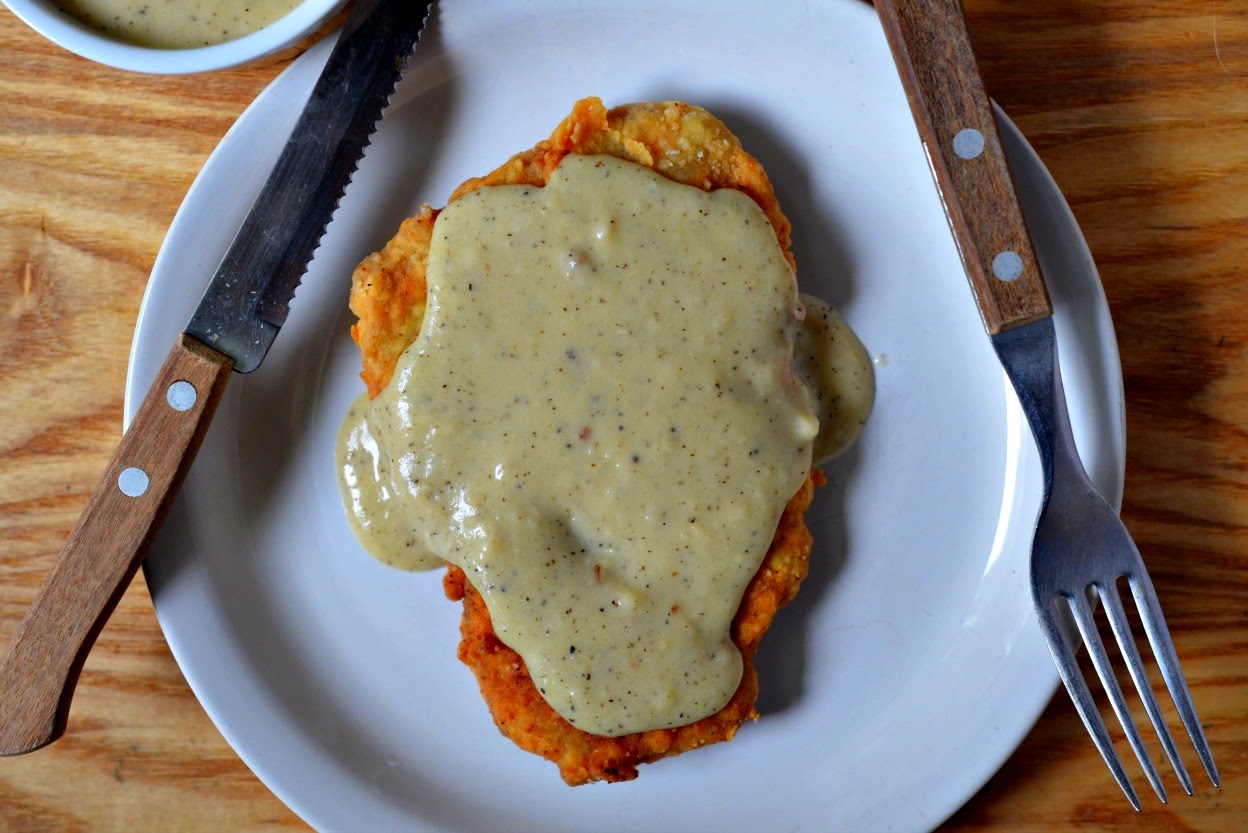 Don't you just love juicy, hearty, golden Country Fried Seitan? Picture them next to a mountain of mashed potatoes, fried okra, and perfect fluffy biscuits. Oh, now I'm hungry. Aren't you hungry?
Country Fried Seitan – Serves 2
Ingredients
vegetable oil for frying

4 seitan cutlets (recipe below)

1 cup non-dairy milk

1 tablespoon yellow mustard

1 cup flour

1 teaspoon salt

1/2 teaspoon garlic powder

1/4 teaspoon black pepper
1. Pour about 3/4 of an inch of the vegetable oil into a skillet. Place the oil over medium heat until it reaches 350 degrees.
2. While the oil heats up whisk together the milk and mustard in a shallow bowl. In another shallow bowl combine the flour, salt, garlic powder, and black pepper.
3. Coat each cutlet in this order: flour, milk, flour, milk, flour. When the oil reaches 350 add the cutlets to the skillet. You don't want to overcrowd them, so cook them in batches if need be. Flip the cutlets over when the submerged side is golden brown, and cook the other side until it matches in color. If you're cooking these in batches be sure to let the oil go back to 350 before each fry.
4. Serve with a river of country gravy and mashed potatoes!
Seitan Cutlets
Adapted by this recipe from yourveganmom.com
1 cup vital wheat gluten

3 tablespoons chickpea flour

1 teaspoon poultry seasoning

1/2 teaspoon salt

1/2 cup vegetable broth

1/2 cup pumpkin
1. In a medium sized bowl combine the vital wheat gluten, flour, poultry seasoning, and salt.
2. Add the broth and pumpkin to the flour mixture, and stir to combine. It should come together to form a gluten-y ball.
3. Pour the ball onto your counter, and knead it a few times to work the gluten. Flatten the ball into a rectangle. Cut the rectangle into fourths, and flatten each 4th into a cutlet-y shape. You want to get them pretty flat because they'll poof a bit when steaming.
4. Carefully wrap each cutlet in foil, and steam them for 30 minutes. When they're done steaming, let them sit for 10 minutes before really carefully removing them from the foil. They'll still be hot under there so watch out. Let them cool until they're comfortable to handle.