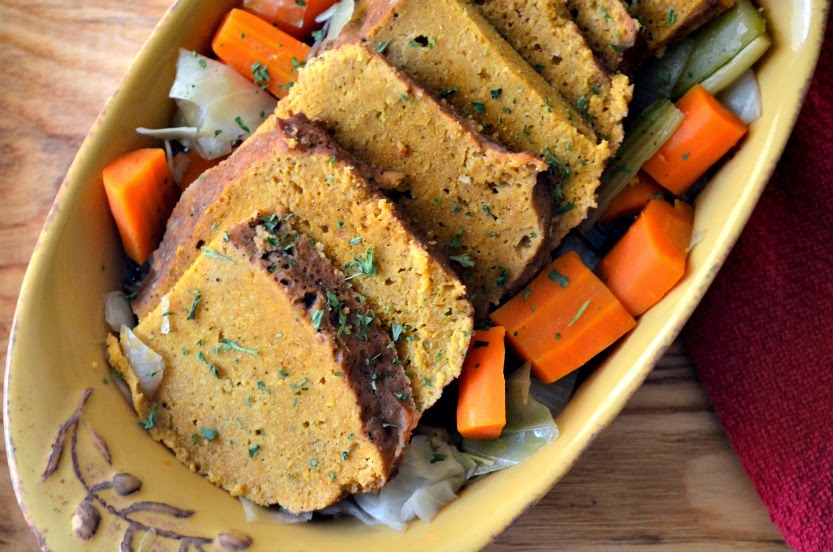 When it came to deciding what meal we wanted for St. Patrick's Day the answer was obvious. We wanted Corned Seitan and Cabbage. Over the years we've done plenty of other great meals for St. Patrick's Day but never attempted Corned Seitan. The reason? Time. It takes almost a week to make. It wouldn't be enough for me to marinate seitan in soy sauce and allspice to call it Corned Seitan. I wanted the real deal. I wanted to brine.
Brining seitan seemed liked a tricky task considering its build. My concern was that keeping seitan in liquid for days would turn it to mush, or that the outside would turn to mush and the inside would be unaffected. Luckily, I was wrong on both counts. The corned seitan not only stayed together, but the seasoning and salt did cut through. The result was a juicy well-flavored seitan – perfectly salted the way only brining can do.
The Corned Seitan and Cabbage was excellent as well. I never tried the original dish in my pre-vegan days, but I can see what the fuss is about. In this version, the seitan is beautifully flavored from the broth and vegetables while maintaining a juicy, but not spongey texture. This is something I could see myself eating often if it was appropriate. It takes time to prepare, but the steps are quite easy and require very little work.
Corned Seitan and Cabbage
2 pound Corned Seitan, recipe follows

1 tablespoon coarsely ground black pepper

1 teaspoon ground allspice

2 bay leaves

2 teaspoons kosher salt

2 large carrots, peeled and diced

1 large onion, diced

2 stalks celery, diced

1 small head cabbage, chopped
1. Place corned seitan in a large dutch oven pot and cover with water.
2. Add the pepper, allspice, bay leaves and salt, carrots, onion and celery. Cover the pot and bring to a boil then reduce to a simmer. Allow it to simmer for 15 minutes.
3. Add the cabbage, cover the pot and simmer for 15 more minutes. Remove from the heat.
4. Carefully transfer the vegetables into a serving dish with as much of the broth as you'd like. Discard the rest.
5. Transfer the seitan (carefully again) to a cutting board and cut into slices. Serve with the vegetables and broth.
1 quart water

1/2 cup kosher salt

1/4 cup brown sugar

1/2 cinnamon stick, broken into several pieces

1/2 teaspoon mustard seeds

1/2 teaspoon cracked black pepper

1/8th teaspoon nutmeg

10 whole allspice berries

1 bay leaf

1/4 teaspoon ground ginger

2 cups very cold water

1 2lb seitan loaf
1. In a large stock pot combine everything but the cold water and seitan. Cook over high heat until the salt and sugar dissolve. Remove from the heat and add the cold water. Place the brine in the refrigerator until it reaches 45 degrees. Meanwhile place the seitan in a pot, casserole or tub large enough to hold the seitan and brine.
2. When the brine is cool pour it over the seitan to completely cover. Completely cover the pot or tub and place it in the refrigerator for 5 days.
3. After 5 days remove the seitan from the brine and give it a rinse. Your corned seitan is now ready to cook.
Pin it!