A delicious dairy free and egg free version of the recent internet sensation, Churro Waffles. They are incredibly decadent and very reminiscent of the churros that my husband and I would eat while strolling around Disneyland. A very sweet memory
!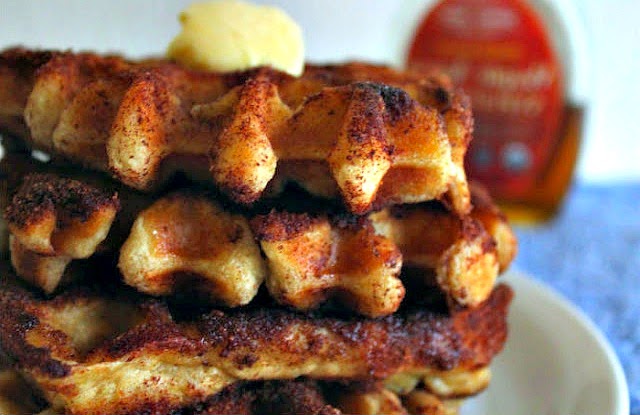 Churro Waffles
Recipe adapted from Churro Waffles @ Chica Chocolatina and Old Fashioned Chelsea Waffles from Vegan Brunch.
Ingredients:
Churro Topping
1 cup sugar

1/2 cup cinnamon

1/2 cup non-dairy margarine (I use Earth Balance)
Waffles:
2 cups non-dairy milk

1 teaspoon apple cider vinegar

3 tablespoons canola oil

3 tablespoons maple syrup (I love the Organic Maple Agave blend from Trader Joes)

2 cups all-purpose flour

1/2 teaspoon salt

4 teaspoons baking powder

1 tablespoon cornstarch
1. Preheat your waffle iron.
2. In a bowl, combine the sugar and cinnamon. Set aside.
3. Melt the margarine and set aside. It doesn't matter how you melt it, just get it liquefied.
4. In a large bowl, whisk together the milk, vinegar, oil and maple syrup.
5. Add the flour, salt, baking powder and cornstarch to the milk mixture and mix until the batter is smooth.
6. Spray the waffle iron with cooking spray and cook the waffles according to the manufacturer's directions.
7. As soon as your waffle is done, dip both sides of it in the melted margarine, then dip both sides of it in the cinnamon mixture. Continue this process until you run out of batter.
8. Try not to eat them all.