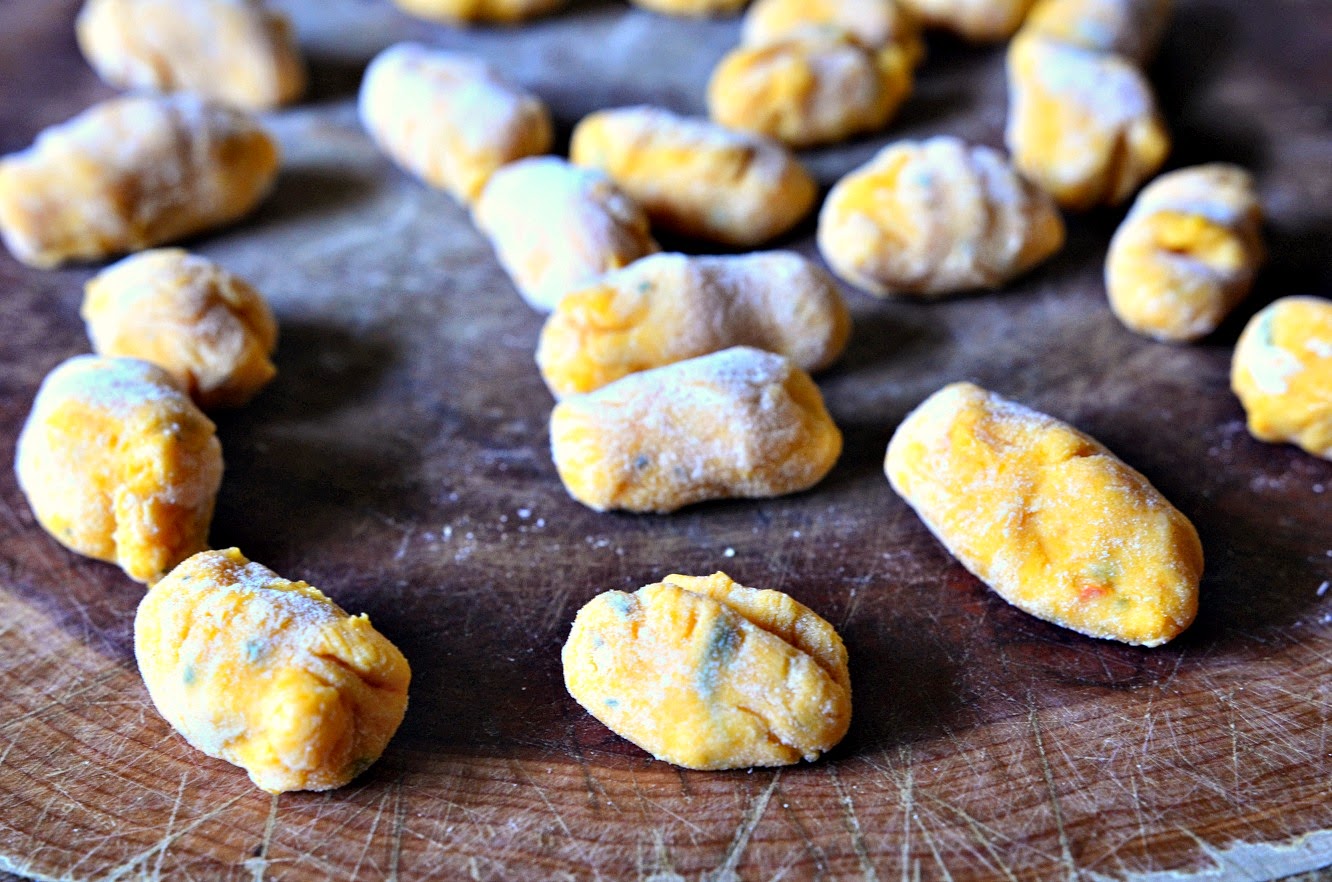 I'm so glad to be saying goodbye to this year's Vegan MoFo with Butternut Squash Gnocchi. These delicious little dumplings are a great way to enjoy Fall flavors, which has inadvertently been a bit of a theme this month.
To make these I altered my recipe for Soft and Fluffy Gnocchi to use butternut squash. I've been up to my ears in butternut squash over the last few weeks, so I'm looking for creative ways to prepare it.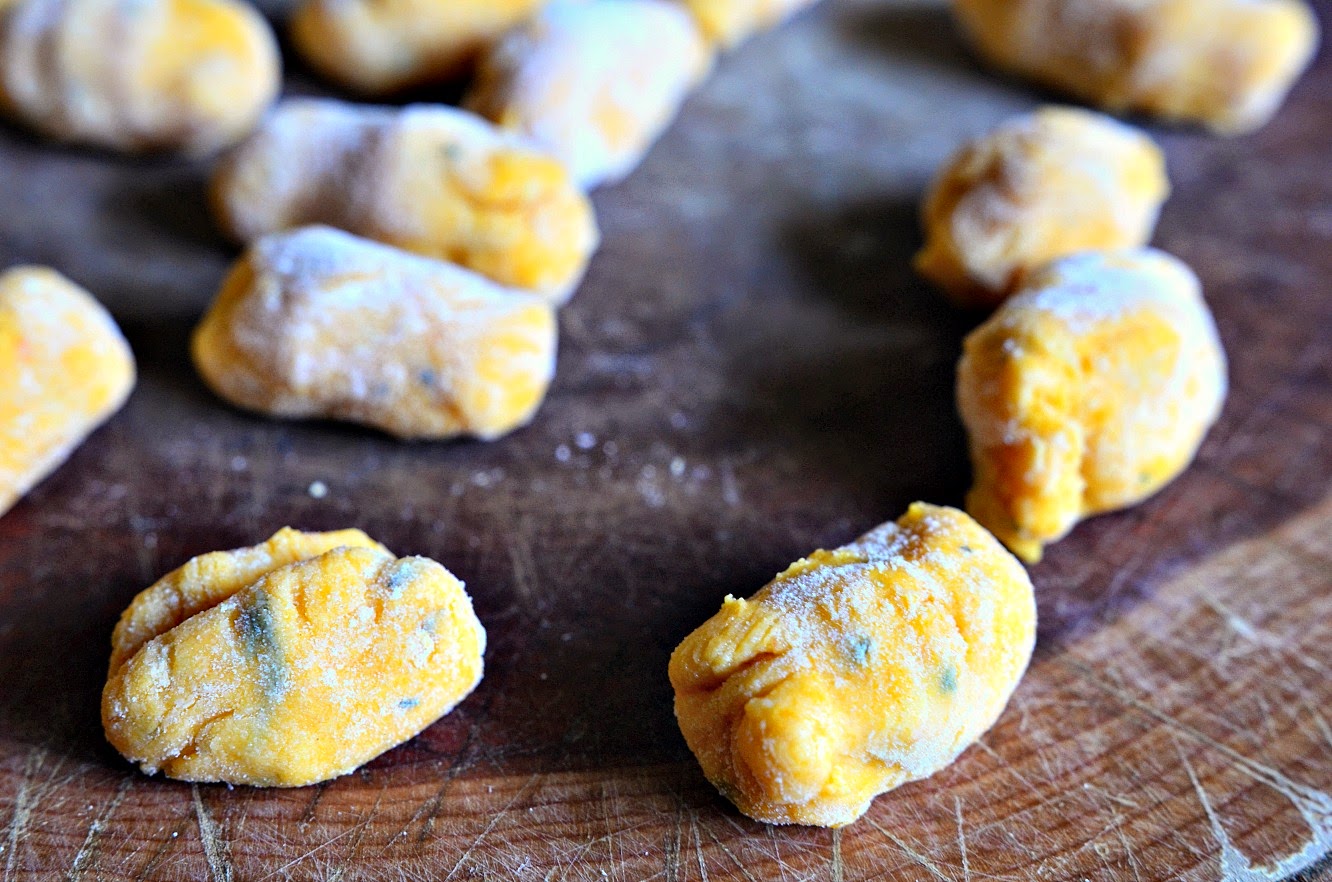 These are a little trickier to make than potato gnocchi because butternut squash carries more moisture and less starch. They're wonderful though, especially with the addition of herbs and garlic. I'm planning on eating these with quinoa bolognese, but I bet they would be great just tossed in some olive oil, nooch and black pepper. Don't you just love fresh gnocchi?
Ingredients:
2 pounds butternut squash, peeled and large diced

2 1/4-1/2 cups all purpose flour

2 tablespoons nutritional yeast

1 teaspoon parsley

1/2 teaspoon thyme​

1/2 teaspoon rosemary

1/2 teaspoon sage

1/2 teaspoon garlic powder

1/2 teaspoon salt
Directions:
1. Line two baking sheets with parchment paper and set aside.
2. S
team the butternut squash for 30 minutes. I used my
rice cooker
, but you can use a steamer, your
microwave
,
or
oven
. Just leave out any oil or butter that those recipes call for.
3. Place the cooked squash in a large bowl and mash it until there are little to no lumps of any size. (If you have a ricer you should just use that.)
4. Add 2 1/4 cups of flour, nutritional yeast, herbs and salt to the squash. Stir with your hands to combine. The dough should come together into a ball, and be soft but not overly wet and sticky. If the dough is too wet add the remaining 1/4 cup of flour. Knead just until the flour is absorbed, and no more! Over kneading will give you dense gnocchi. This dough can be very wet so you may need even more flour. Just keep going until your dough is workable.
5. Place the dough on a large floured workstation. Cut the ball in half and then in half again for 4 equal pieces.
6. Roll out your first piece into a rope a little thicker than your thumb. Slice the rope into 1 inch slices. Slide each slice of dough over the tines of a fork to form a gnocchi. Place it on one of the prepared baking sheets in single layer. Repeat until you're out of dough.
To Cook
1. Bring a large pot of heavily salted water to a boil.
2. Drop your gnocchi into the boiling water being careful not to overcrowd. You'll likely have to cook these in batches depending on the size of your pot. When the gnocchi starts to float they are done. – This is why it is important not to overcrowd. If you overcrowd, they'll get stuck on each other and they won't float. The result will be disintegrated gnocchi.
3. Remove with a slotted spoon and let sit for 5-10 minutes before using in your recipe.
It's been a great Vegan MoFo! I've learned a lot, and I've definitely grown as a blogger. I've also found many new-to-me blogs to add to my blogroll as well as some great new recipes to try. Thank you to everyone who's stopped by, and anyone who mentioned any of my recipes on their own blogs. Also, a big thank you to the Vegan MoFo admins for doing such a great job organizing, and for featuring me in the round up!
Disclaimer: This post contains Amazon Affiliate links. Purchases from these links could result in a small commission used to support Housevegan.com.