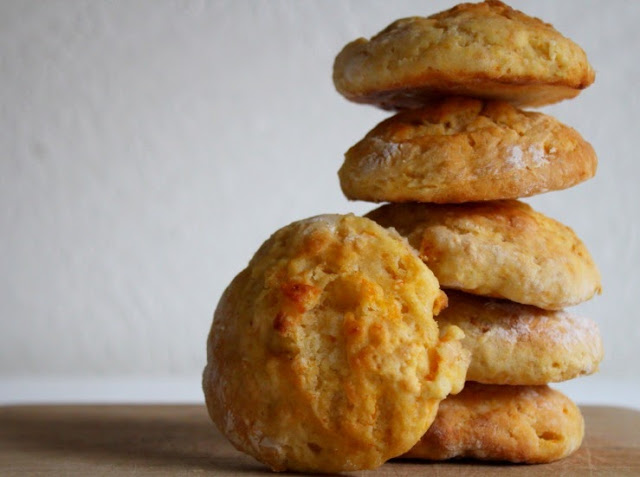 My husband and I are big biscuit lovers. While we try not to polish off a batch in a day, our attempts are often futile. However, things get a little safer when butternut squash is in season. I replace most of the fat in my biscuits with roasted and pureed squash. This makes them lower in fat and provides a delicate sweet depth of flavor. Obviously these are in regular rotation for Fall breakfasts.
Butternut Squash Biscuits
Adapted from Cream Biscuits in the Art of Simple Food by Alice Waters
Ingredients:
1 1/2 cups all purpose flour
1/4 teaspoon salt
2 teaspoons sugar
2 teaspoons baking powder
1/4 cup butternut squash puree (instructions below)
2 tablespoons Earth Balance Natural Buttery Spread
3/4 cup non-dairy milk
1. Preheat your oven to 400. In a medium bowl combine the flour, salt, sugar and baking powder.
2. Add the squash puree and Earth Balance to the flour mixture. Cut them in with your fingers or a pastry cutter until they are the size of peas.
3. Take 1 tablespoon of milk out of the 3/4 cup and set aside. Pour the rest of the milk over the flour and stir gently with a spatula until it comes together.
4. Pour the dough onto a floured surface and gently knead it a few times until it's not super sticky. Roll it out to 3/4″ thick and cut out your biscuits. Repeat until you're out of dough.
5. Brush the biscuits with the remaining tablespoon of milk. Bake for 15-17 minutes until the tops are golden.
Butternut Squash Puree
1. Preheat your oven to 350. Peel your butternut squash, remove the seeds, and cut the flesh into 1 inch cubes. In heavy-bottomed skillet or a baking sheet lined with parchment paper bake for 25-30 minutes until soft. After cooling for about ten minutes, transfer the squash to a food processor and puree.