Disclaimer: This post was written as part of Eventbrite's Trends in Food and Drink Project. I was not compensated in any form by Eventbrite or Counter Culture for this review. The idea for this post, and the opinions expressed within it are my own.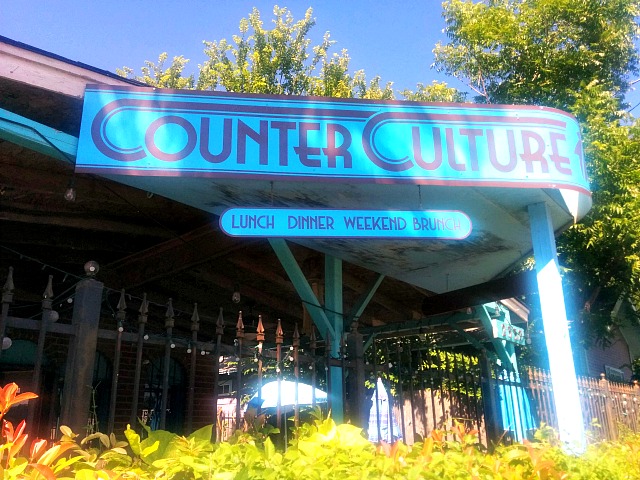 If you're familiar with the vegan food scene in Austin you've likely heard of Counter Culture. Established in 2009, Counter Culture specializes in internationally inspired comfort food. While it started as a trailer, it now stands as Austin's only completely vegan brick and mortar restaurant. They're dedicated to cooking with organic, fair trade, and locally grown ingredients whenever possible as well as reusing, recycling, and composting waste.
For years I'd heard such fantastic things about Counter Culture that I expected it to be like vegan Xanadu. While I'm not sure anything could live up to that hype I did find something to unabashedly love about them: their brunch. This past weekend my husband, his delightful cousin, and I ventured to the East side for my favorite brunch in Austin.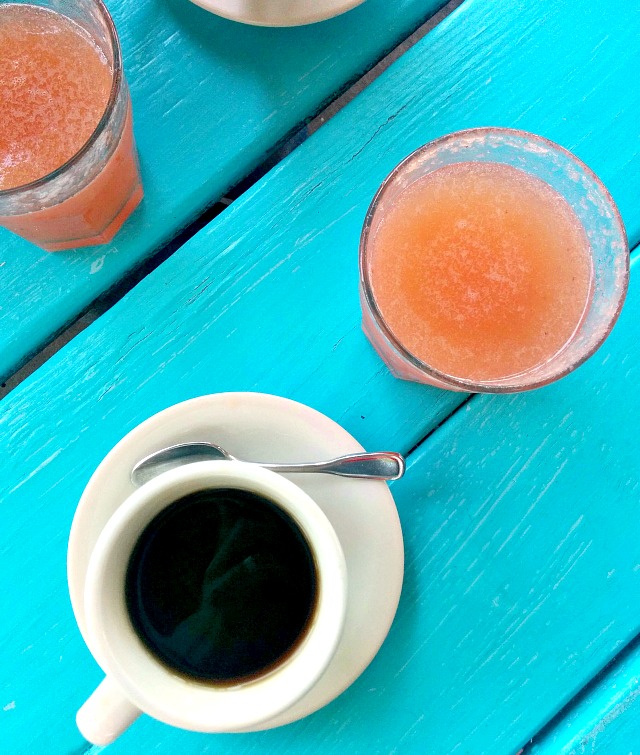 I'm sharing how I do brunch as part of Eventbrite's Trends in Food and Drink Project. If you're unfamiliar, Eventbrite is a platform for finding events your area. A ton of people use it during SXSW, but it's definitely useful throughout the whole year. (I even bought my tickets for the Vida Vegan Con Vegan Bazaar on Eventbrite!) They also have free event management tools if you're planning an event which requires tickets sales, etc. Overall, they're a great resource. So when I found out about their project on food and drink trends I was definitely interested in jumping on board!

According to a recent study in food trends by Eventbrite, two of the fastest growing event trends in food and drink are breakfast & brunch, and local or organic dining. When I read that my immediate thought was "Counter Culture!" The thing is, they've been doing this for 6 years. When these trends were seemingly in babyhood in ATX, Counter Culture was already perfecting it.
I assume that's why they've got it down so well.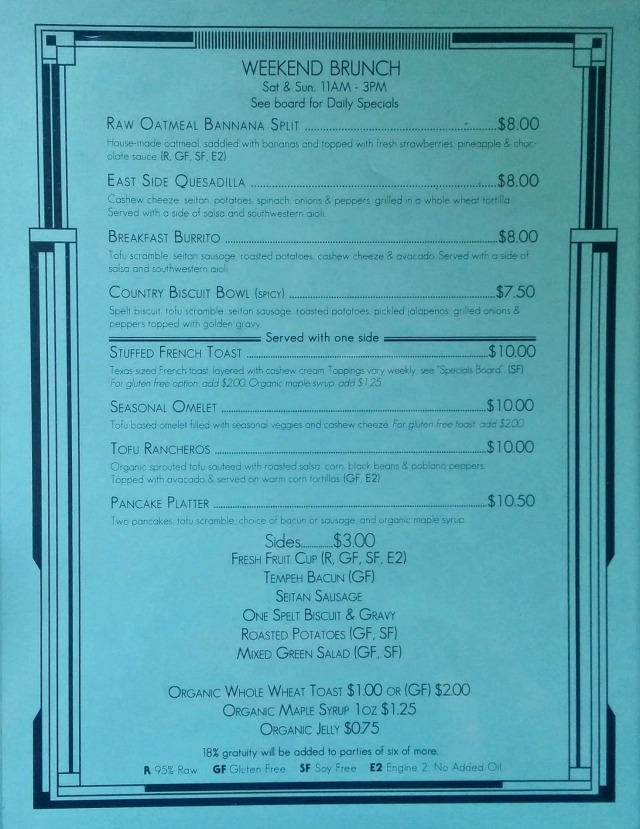 Counter Culture's brunch is always on point, and what you don't see on this menu is the actual reason I go there: the specials board. Every weekend they have rotating brunch specials, and 9 times out of 10 I'm eating from that board. I do have a standard menu back up just in case the board doesn't send me. It's the Country Biscuit Bowl: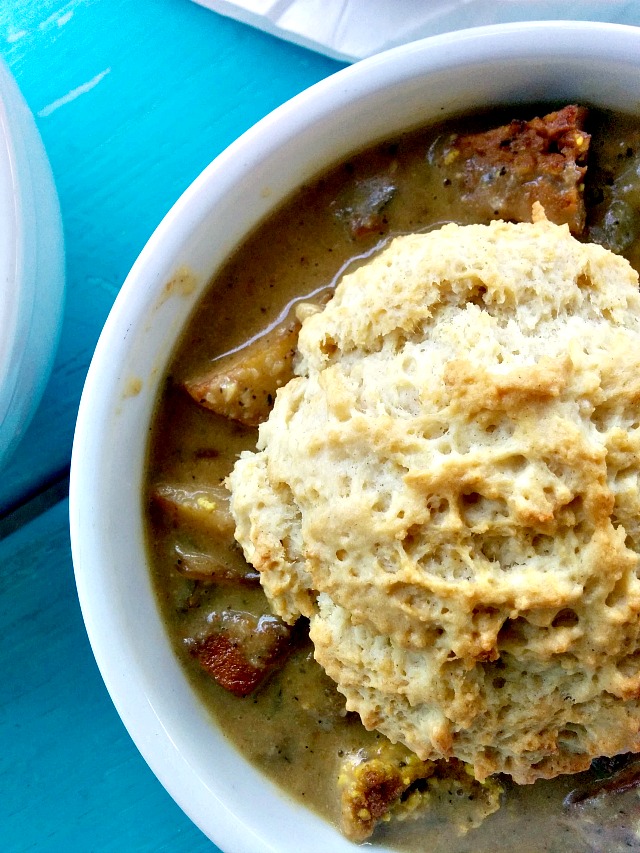 The Country Biscuit Bowl also happens to be my husband's go-to. It's basically breakfast gravy soup topped with a big ole biscuit. The biscuit is always crisp on the outside and soft and tender on the inside, and underneath it you've got a ton of flavorful chunks of seitan covered in spicy gravy. It's pure comfort food.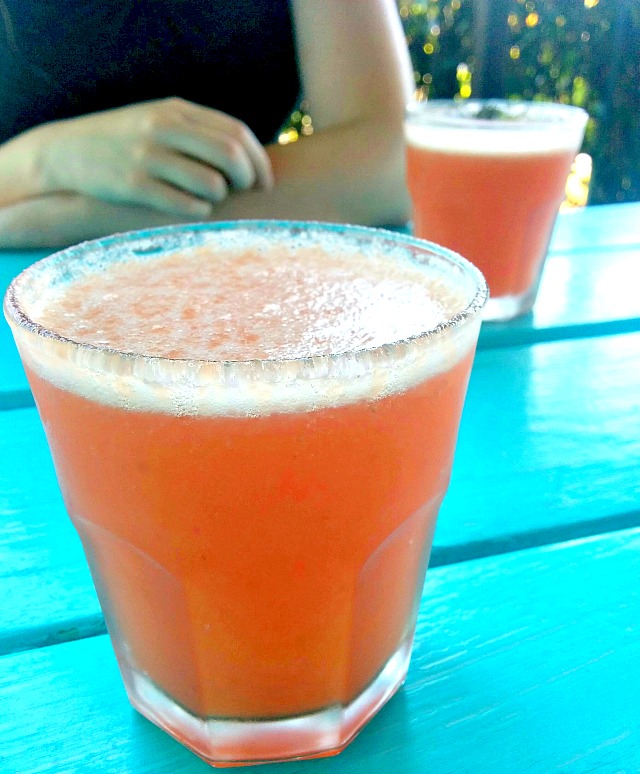 The specials board was looking hella good that morning so that's where his cousin and I made our scene. They always have fresh juice on hand so we started with winter melon, plum, and pineapple
mimosas. They were super fresh, and not too sweet. I've never had a boring mimosa here.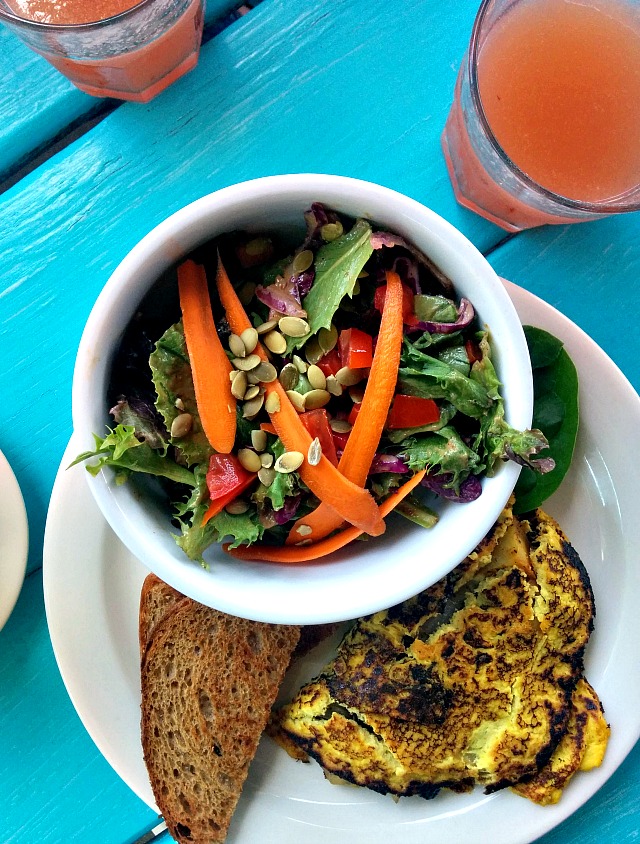 For my meal I ordered the

Potato, Onion, and Shiitake Mushroom Omelette with toast, and a side of mixed green salad. Pro tip: always get the mixed green salad! This tip was passed down to us, and now I'm passing it down to you. It is hands down my favorite restaurant salad. The dressing is deliciously tangy, and there's always the perfect amount of it.
My omelette was also really enjoyable. It was tofu-based and had a reminiscent
egg quality to it without that overt richness. The potato, onion, and shiitake filling was hearty and homey. It was also quite salty but in the best way. They usually don't use enough salt for my preferences so I was really pleased. It felt like
an indulgence despite being reasonably healthy.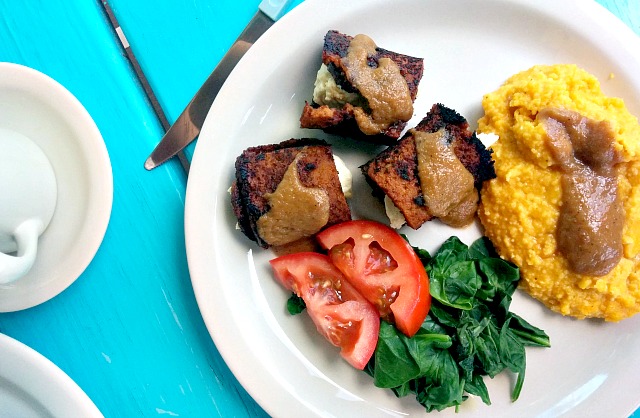 Our dining companion got The Special:

Seitan Bacun & Brie with Smokey Pumpkin Grits, Steamed Spinach, Fresh Tomatoes and Fig Sauce. The little bit I tasted was very impressive. The seitan bacun was tender, and the brie was rich and sweet. I'm not sure if the sweetness was from the brie or the fig sauce, but it was great either way. Counter Culture makes all their cheeses in house, and they do them extraordinarily well. (We got a margherita pizza there once, and their mozzarella was unreal!) You should know that this dish was only $10. $10! M
ost of their food is remarkably inexpensive considering the quality they strive for.
Further proof that eating great vegan food doesn't automatically come at a premium.
We had such a great time. Brunch there is always low stress and delicious. We're lucky to have a place dedicated to making quality food while taking extra care to support its community through conscious
sourcing and responsible clean up.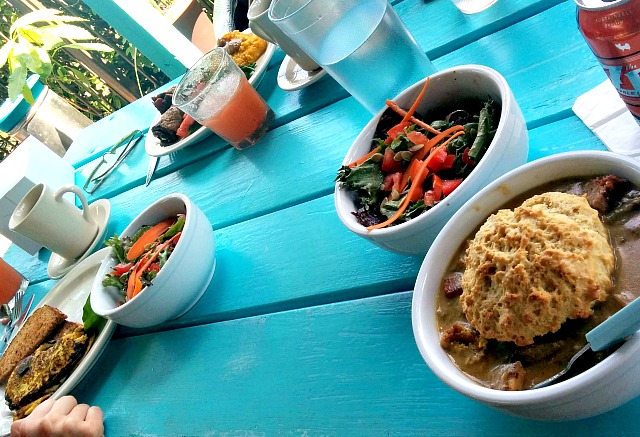 People often use the term "trendy" like it's a bad thing, but if trends open eyes and evolve tastes then I welcome them. I hope the growing interest in what Counter Culture does means that they'll see lots of success for years to come. I'm excited to watch them grow with the trends for sure.
Next time you're in the ATX area be sure to pay them a visit. Just remember:
Brunch, brunch, brunch

T

he specials board won't let you down

Go for the fresh juice mimosas

Always, always opt for the mixed green salad

The patio is lovely but mosquitoes aren't, so if you're sensitive it's probably best to dine inside.
Website: countercultureaustin.com
Address: 2337 East Cesar Chavez Street Austin, TX 78702
Phone: (512) 524-1540
Let's be friends! Follow HV on Facebook, Google+, Pinterest, Bloglovin', and Instagram! You can also get House Vegan posts delivered right to your inbox by clicking here!