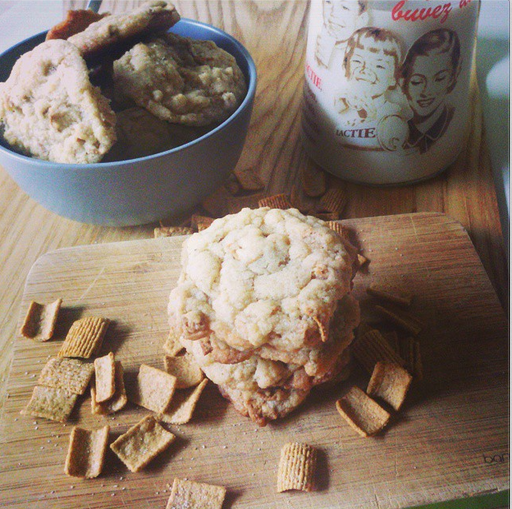 Sometimes things in life don't work out. Sometimes you don't get into the college you want. Sometimes the person you thought was your soul mate ends up being your first break up. Sometimes you land your dream job only to realize you actually hate it. And sometimes you write a cookie recipe, bake some up, set up your photography station, and notice that your camera is nowhere to be found.
The camera scenario is the very reason I'm publishing instagramy cookie shots. I've come too far this MoFo to let a little thing like missing cameras deter me! Look past the mobile camera graininess and consider how amazing these cookies sound. Ignore the necessary filters and see the delicious potential of turning your favorite cereal into chewy, ooey, gooey cookies.
When making this recipe it's really important use a cereal you love. It's going to be the only defining flavor of the cookie. I used Cascadian Farm's Graham Crunch cereal. It's my favorite right now!
Breakfast Cereal Cookies
Ingredients:
2 cups all purpose flour

2 cups your favorite cereal, crushed with your hands

2 tablespoons cornstarch

1/2 teaspoon baking soda

3/4 teaspoon salt

1 cup non-dairy margarine (Earth Balance is the best!), melted

¼ cup non-dairy milk

1 1/2 cup white sugar

1 teaspoon vanilla extract
Directions:
1. Preheat the oven to 350 degrees. Line two baking sheets with parchment paper, and set aside for later.
2. In a medium sized bowl combine the flour, cereal, cornstarch, baking soda and salt. Set aside.
3. In a separate smaller bowl mix together the melted margarine, milk, sugar and vanilla. Pour this wet mixture into the flour mixture and stir to combine.
4. Drop cookies by the tablespoon full onto the parchment lined baking sheets making sure to keep them 2″ apart. Bake for 10-12 minutes until brown around the edges. For best results let them cool on a wire rack for at least 10 minutes before eating.
Before eating, try dunking your cookies into your favorite milk for a special treat!
P.S. My husband found my camera like an hour ago. Whew!