Disclaimer: Housevegan.com contains Amazon Affiliate links. Please see the bottom of the left sidebar for HV's Amazon Affiliate disclosure, or feel free to read this site's Disclaimer.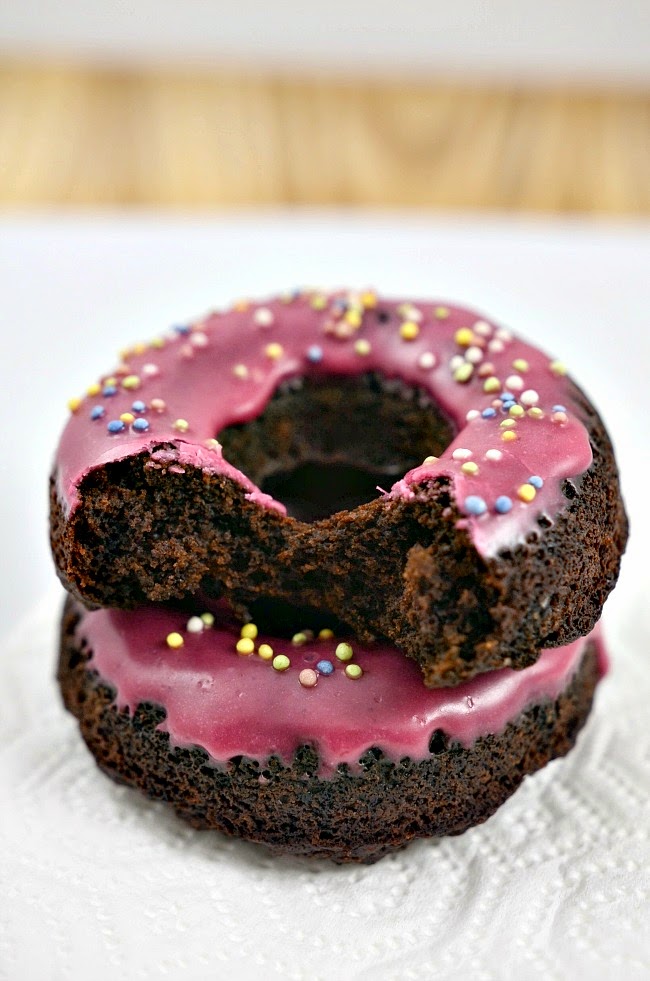 I had a donut pan on my Amazon wishlist for years before finally getting one. I could have bought one for myself, but it was just one of those things that I never prioritized. It was destined to be something I would never buy for myself, but would love as a gift. My husband broke down and bought me one for Christmas because he's a sweetheart. (Or he was sick of seeing it on my list…..)
I played around with a few recipes before deciding to turn my favorite chocolate cake recipe into donuts. I was ready for something I knew I would like, and I definitely liked these.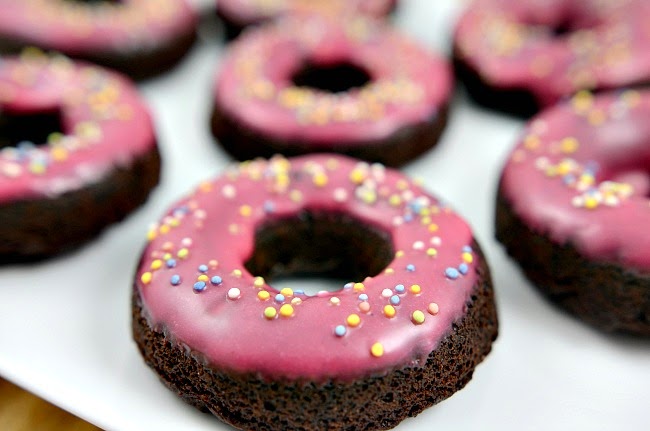 My favorite chocolate cake recipe contains a (usually) very secret ingredient: beets. Beets make these donuts – or cake – what they are: moist, complex, and deep. One thing the donuts aren't is beety. The flavor of beets is completely absent despite its presence in the donut batter and glaze.
The great thing about beets (besides everything about their color) is that they're a known aphrodisiac. Beets pair up with chocolate in these donuts to make one very romantic baked good. Oooh la la. Valentine's Day is this weekend, and I definitely had that in mind when writing this post.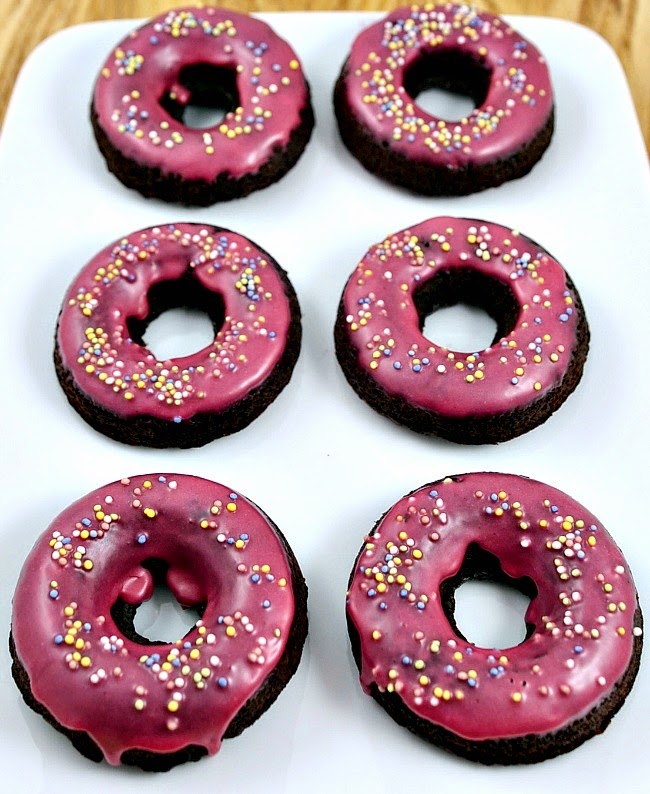 Beets are everywhere in these donuts including the glaze. I've seen bloggers make red food coloring out of beets, but I was skeptical. I just didn't believe it wouldn't taste like beets. However, when I was boiling the beets for my donuts I figured it was a good time to try my hand at homemade food coloring. I'm so glad I did because it turns out beet coloring is incredible! The color is gorgeous, all natural, and tastes nothing like beets when added to other foods.
Adorning the donuts are great vegan sprinkles, Sprinkelz. If I'm going to have a sexy beet donut I want it to look pretty, and sprinkles make everything pretty. Plus, with the sprinkles don't they kind of remind you of Homer Simpson's favorite donuts? Not sexy, but I'm just sayin.
If you haven't thought of a Valentine's Day breakfast yet I definitely recommend these. Chocolate cake for breakfast? Yes please. And again, beets and chocolate…… Oooooo la la. I'm including two cooking times if you'd prefer to make these into muffins instead of donuts, but if you can get your hands on a donut pan I really recommend it!
Baked Chocolate Beet Donuts w/ Pink Glaze and Sprinkles – Makes 10 Donuts
½ cup beet puree (Recipe below)

¾ cup sugar

½ cocoa powder

½ cup melted vegan margarine like Earth Balance or a neutral tasting vegetable oil

1 1/4 teaspoon vanilla

¼ cup strong black coffee

¾ cup all purpose flour

1 teaspoon baking powder

¾ teaspoon baking soda

¼ teaspoon salt
Glaze:
1 cup powdered sugar

1 teaspoon vanilla

beet food coloring (Recipe below)
1. Preheat your oven to 350 degrees and spray a donut pan or muffin pan with non-stick oil spray. In a medium sized mixing bowl combine the beet puree, sugar, cocoa powder, Earth Balance, vanilla and coffee.
2. In a large mixing bowl combine the flour, baking powder, baking soda and salt. Fold the beet mixture into the flour mixture until everything is just combined.
3. Spoon the batter into the donut or muffin pan, and bake for 11 minutes for donuts and 15 minutes for muffins. Just until a toothpick comes out clean. Let the donuts cool in the pan for ten minutes before moving them to a cooling rack.
4. While the donuts bake make the glaze by whisking together the powdered sugar, vanilla, and about a tablespoon of the beet food coloring. The texture should be pretty thick and glazey. Add more food coloring if it needs more liquid.
5. When the donuts are completely cool dip each of them in the glaze and sprinkle with sprinkles.
Beet Puree and Food Coloring
3 medium sized beets

3 cups of water
1. Peel and quarter the beets before adding them to a medium sized pot with the water.
2. Bring the beets to a boil over medium heat, and allow them to cook until they are soft enough for a fork to pierce through – around 30 minutes. The water level will go down, but resist the urge to add more. Just cover the pot.
3. Once the beets are soft carefully transfer them with a slotted spoon to your blender or food processor. Meanwhile, continue to let the water reduce until you're left with about ½ cup. Just eyeball it. No big whoop.
4. While the beet water reduces puree your cooked beets until they're smooth. Set the puree aside if you're using it right away. Otherwise, store the it in an airtight container in your fridge for just a few days.
5. When your beet water has reduced remove it from the heat to allow it to cool. Once it's fully cooled pour it into an airtight container and store it in the fridge.
Let's be friends! Follow HV on Facebook, Google+, Pinterest, Bloglovin', and Instagram! You can also get House Vegan posts delivered right to your inbox by clicking here!