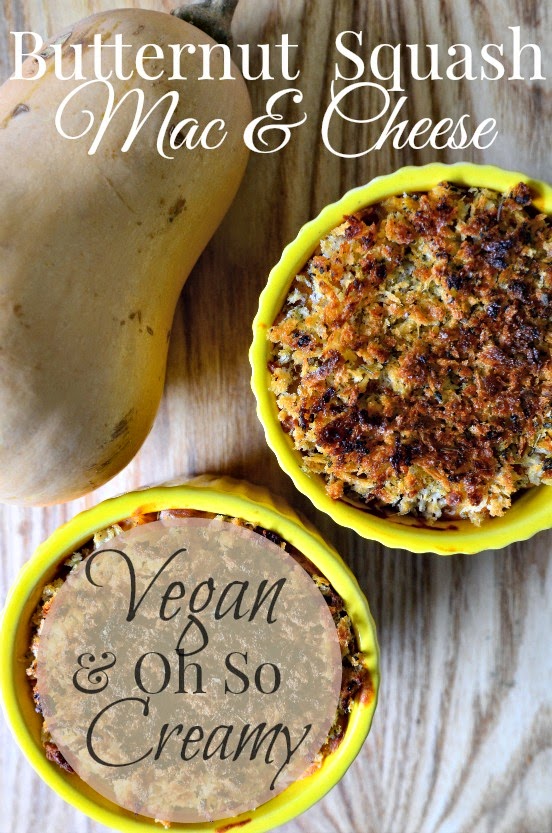 Butternut Squash has already made its way into our CSA box, and I'm so glad it has! It's a quintessential Fall food to me, and a nice reminder that we're well on our way to my favorite time of year.
Pureeing butternut squash and adding it to mac and cheese is a great alternative to the usual steamed or roasted methods of cooking. Plus, t
his Butternut Squash Mac and Cheese is so yummy that it makes me
hungry just thinking about it.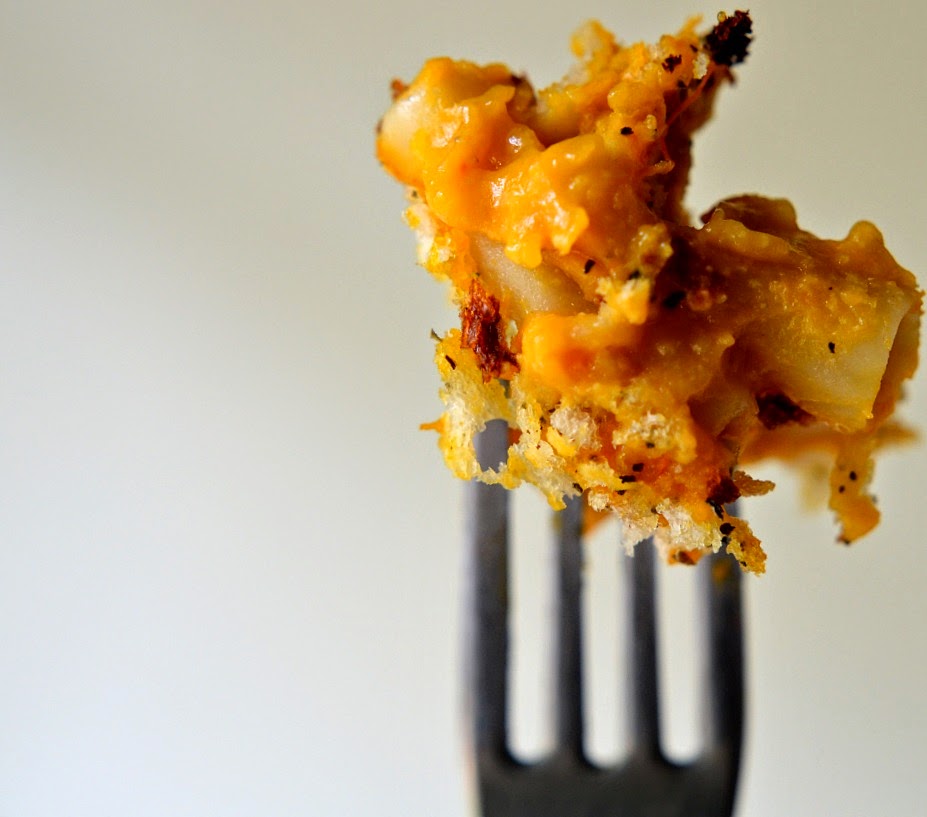 The squash makes this mac oh so creamy. It keeps things nice and gooey in the oven, but if you want to skip the baking process feel free! The sauce is super yummy just mixed with macaroni. Just be sure to cook your pasta fully instead of leaving it undercooked for baking as the following recipe suggests.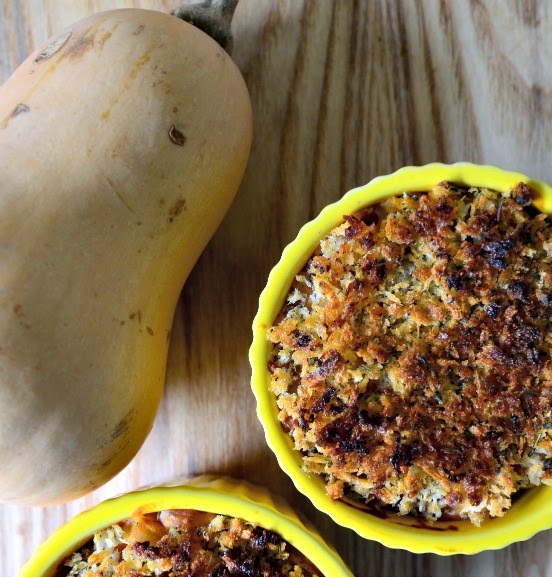 Can you imagine coming home from work or school to the sweet and cheesy smell of this dish? Pure comfort! Serve this alongside some garlicky greens and a cold Fall beer, and you'll be on your way to one super cozy evening.
Baked Butternut Squash Mac and Cheese
1 medium sized Butternut Squash (around 1 pound)

4 servings of macaroni pasta, uncooked

⅓ cup nutritional yeast

1/4 cup flour

1 ¼ teaspoon salt

½ teaspoon garlic powder

¼ teaspoon ground black pepper

1 cup of water

1 ½ teaspoons mustard

1 teaspoon truffle oil (very optional)

3/4 cup panko

1 teaspoon rubbed sage, dried

¼ teaspoon salt

2 teaspoons olive oil
1. Peel the butternut squash, cut it in half long ways, and scoop out the seeds. Chop the butternut squash into large pieces, and steam them for 30 minutes. I used my
rice cooker
, but you can use a steamer, your
microwave
,
or
oven
. Just leave out any oil or butter that those recipes call for.
2. Puree the steamed squash in a food processor or blender until no chunks remain. Measure out 1 cup. That's about how much puree a 1 lb butternut squash should give you.
3. Meanwhile, preheat your oven to 400 degrees, and start your pasta and creamy sauce.
4.For the pasta: Cook according to the package directions, but stop cooking about a minute before the pasta reaches al dente. It should be just slightly undercooked. Drain, and pour the pasta back into the cooking pot. Set aside.
5. For the sauce: In a small pot whisk together the nutritional yeast, flour, salt, garlic powder, and pepper. Add the water and whisk to combine. Place the pot over medium high heat, and whisk continuously until a creamy sauce forms. Remove from the heat and stir in the mustard and truffle oil if using. Stir in the squash puree.
6. Pour the sauce into the macaroni and stir to combine.
7. Quickly make the topping by combining the panko, sage, and salt in a small bowl. Stir in the olive oil until it's all combined.
8. Pour the Mac into your casseroles and bake:
If making individuals: Pour the mac into four 8 oz ramekins, and top each with an equal amount of panko. Place the ramekins on a baking dish and bake for 30 minutes, until the panko is browned.

If making in a casserole: Pour the mac into a casserole dish, and top with the panko. Bake for 25-30 minutes until the panko is browned.
9. Let cool about 5-10 minutes before serving. Enjoy!
Disclaimer: This post contains Amazon Affiliate links. Purchases from these links could result in a small commission used to support Housevegan.com.